From Botox to Botulism and Back – Featured on Good Morning America May 17th
How the quest for everlasting beauty through Botox® nearly turned deadly for a Florida doctor and his wife. This heart-warming story of survival sheds new light on the potential dangers involved with popular anti-wrinkle treatments.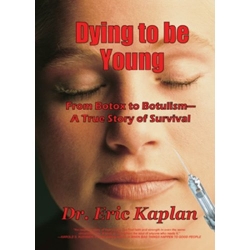 Scottsdale, AZ, May 18, 2007 --(
PR.com
)-- Like many Americans, Eric and Bonnie Kaplan wanted to sidestep the effects of aging. The Kaplans turned to Botox® for what they expected to be a safe and easy way to turn back the clock. While Botox® has become wildly popular as a solution to wrinkles, this time something went horribly wrong. Instead of a fast fix, the Kaplans ended up on the receiving end of something that nearly turned deadly; Botulism. Suddenly Dr. and Mrs. Kaplan found themselves paralyzed and struggling to survive. With the odds stacked against them, the Kaplans endured a long and painful struggle for survival. Through their faith and love for each other, the Kaplans managed not just to survive but to persevere and help spread the word that there are natural alternatives to Botox®. Their incredible story was just showcased by "Good Morning America" on Thursday May 17th, 2007 and featured an emotional reunion between the Kaplans and Chris Cuomo who had visited them while in the hospital during the early stages of their ordeal. Chris Cuomo remarked, "Look at you guys! You're back. A true miracle!" Dr. Kaplan chronicles his amazing journey in his best selling book, "Dying to be Young" where he shares the details of his captivating story along with his own personal secrets for looking young naturally.
For additional information or to schedule and interview, contact Bill Tantana: 1-800-859-3977
Botox® is a registered trademark of the Allergan Corporation - Irvine, CA.
About Dr. Eric Kaplan:
Dr. Eric Kaplan is a retired Chiropractor and Acupuncturist is the author of "Dying to be Young" an Amazon.com and Barnes and Noble best seller. Dr. Kaplan currently works to educate the public about the potential dangers involved with Botox® while offering effective natural alternatives.
###
Contact
Lead Story PR
Bill Tantana
1-800-859-3977

Contact