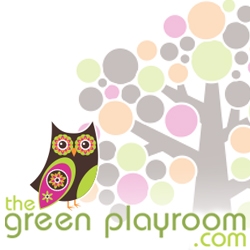 Bismarck, ND, March 01, 2012 --(
PR.com
)-- Ashley Gutknecht Launches TheGreenPlayroom.com.
Ashley Gutknecht will launch TheGreenPlayroom.com, a website devoted to sustainably minded individuals looking for eco-friendly toys, children's furniture and room décor for children's playrooms.
TheGreenPlayroom.com will feature a beautiful selection of sustainable, non-toxic, eco-friendly furniture and room décor including: bookcases, storage table and chair sets, toy boxes, wall shelving and peg racks, and wall art. The toy collection features top eco-friendly brands including Wonderworld and PlanToys and great hard to find brands like Manny & Simon and Maple Landmark who feature eco-friendly wooden toys made in the USA. The toy collection includes baby toys such as push toys, rattles and teethers, toddler toys like push and pull toys, ride-on toys and wooden building blocks and pretend play toys and games for older children.
A commitment to safe, non-toxic and earth friendly products is the corner stone to TheGreenPlayroom.com, which boasts a product selection sure to pass any green inspection! Brands are carefully researched and selected to make sure they have the environment in mind throughout their business practices while also promoting innovation, learning and creativity through children's products. "We do all the research to find the best eco-friendly, non-toxic toys for children so you can spend less time searching for the perfect, safe toy and more time playing with the kids!" said Ashley Gutknecht, owner of TheGreenPlayroom.com. "It is important to provide children with high quality, durable products and toys which will effectively harness our resources and have children delighting in play!"
Founded by ecommerce industry veterans and a mother concerned about reducing our global footprint and providing children with safe and inspiring products, TheGreenPlayroom.com offers sustainable, eco-friendly and non-toxic furniture, room décor, and toys for children's rooms. For more information, please call us at (866) 260-5252 or visit us at
www.thegreenplayroom.com
.
Company: The Green Playroom
Contact: Ashley Gutknecht
E-mail: contactus@thegreenplayroom.com
Phone: 866-260-5252
###