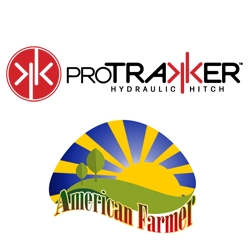 Odebolt, IA, March 05, 2012 --(
PR.com
)-- MBW Products proudly announces their participation in an upcoming episode of American Farmer.
MBW Products, maker of the ProTrakker Hydraulic Hitches, provides farmers with the most cutting edge technology available in the field of precision agriculture. The ProTrakker Hydraulic Hitch is poised to save farmers time, energy and money while maximizing crop yield.
This particular segment will focus on the practice of implement steering, and how it is changing the world of precision agriculture. Viewers will be taken behind the scenes and learn about the many high-tech features of the ProTrakker Hydraulic Hitch.
"Our experience in agriculture led to the development of the ProTrakker Hydraulic Hitches. When sub-inch accuracy is required, ProTrakker is the answer," says Cory Miller, MBW Products. The ProTrakker Hydraulic Hitch automatically adjusts to correctly steer implements on slopes, contour rows and variable soils. The ProTrakker Hydraulic Hitches keep implements from swaying into crop rows and causing expensive, unsightly damage. ProTrakker is in a category of its own and adding it to your precision outfit boosts your accuracy to an unmatched standard, no matter the landscape.
"The ProTrakker is one of the more impressive pieces of machinery that I've come across," said Shirley White, senior producer for American Farmer. "I can't wait for viewers to be exposed to just how technologically advanced the world of agriculture is becoming."
About American Farmer:
American Farmer is a breakthrough program on a mission to showcase the latest advancements in agriculture and farming. From seed to harvest, livestock and more, our producers have traveled the country covering the people, places and issues impacting all areas of farm country.
American Farmer attracts a large farm and ranch audience along with a loyal following of city viewers who want to remain connected with country living and the business of agriculture.
For more information visit: www.dmgproductions.org or call (866) 496-4065.
About MBW Products:
More than three decades ago, MBW began as a maintenance and custom fabrication provider in the agricultural industry.
For more information, visit: www.mbwproducts.com or call 712-668-4240.
Media Contact:
Cory Miller
712-668-4240
###