Security Industry Recognizes CloudAccess with Two InfoSecurity Global Excellence Awards
CloudAccess won two prestigious awards for Best Security Service and Most Innovative Security Service of the Year at the 2012 Global Excellence Awards hosted by InfoSecurity Products Guide.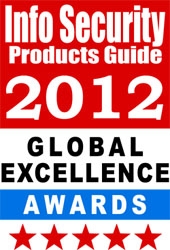 Los Angeles, CA, March 06, 2012 --(
PR.com
)-- CloudAccess, a security-as-a-service leader won two prestigious awards for Best Security Service and Most Innovative Security Service of the Year at the recent Global Excellence Awards hosted by Info Security Products Guide.
"These awards go far in validating the viability of security managed from the clouds. It is a sea-change that is coming and has now been recognized by this great honor," said CloudAccess CEO Kevin Nikkhoo.
CloudAccess won both awards for its scalable cloud-based security solution SingleSource which provides comprehensive and cost-effective IT asset protection for such enterprise needs as SIEM, Log Management, Single Sign On, WebSSO, Identity Management and Access Management. CloudAccess' innovation was partially singled-out because its solution was adaptable to public, private or hybrid clouds based on customer specific requirements.
More than 50 independent judges from a broad spectrum of industry voices from around the world participated and their average scores determined the 2012 Global Excellence Awards Finalists and Winners. CloudAccess was one of only 3 companies to win multiple awards of the nearly 50 given out in the Products and Services categories.
According to Nikkhoo, the combination of Best Security Service and Most Innovative Security Service is testament that the security industry understands that the future, and indeed the present, of IT security management is headed for virtualization. And the awards show that CloudAccess is an up and coming leader in the space.
"We, as IT professionals, already accept and embrace different cloud-based options. We support dozens of applications in the cloud - some are even of enterprise scale and proprietary in nature. Security-as-a-service is just part of that evolution," Nikkhoo said. "And CloudAccess is proud to be recognized as an innovator in that space."
The security industry celebrated its 8th Annual 2012 Global Excellence Awards in San Francisco by honoring excellence in every facet of the industry including products, people behind the successes and best companies.
The next step, according to CloudAccess, is to continue spreading the message of cloud-based security's viability, risk-reduction capabilities and cost-effectiveness through a series of industry-centric webinars. Those interested can get more details on CloudAccess' Facebook page, Twitter site or on the website: www.CloudAccess.com.
"These awards are shared not only by all the CloudAccess employees who spent long nights and countless hours developing an effective enterprise offering , but our clients and other adopters who recognize our solution as best of breed," Nikkhoo added.
###
Contact
CloudAccess
Scott Davis
877-550-2568
www.cloudaccess.com

Contact