GigWebsite.net Launches Offering Unique Options from 3D Gigs to Stimulating the Economy for USA Workers
From 3D photo conversion to other business services, GigWebsite.net offers products and services at affordable prices. The new site will also help to stimulate the economy with the USA select button where people can choose to only do business here.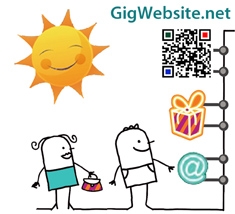 Lake Worth, FL, March 08, 2012 --(
PR.com
)-- Gig websites are becoming increasingly more popular offering micro products and services from personalized prints to seo starting at $5. It is a place where individuals can offer their skills and talents for very low fees. What might only take a few minutes to do and sell for $5 can be very valuable to others.
Faye Gram, is happy to announce the launch of a new website
www.GigWebsite.net
that offers top quality Gigs, Micro Job Sites in 2D and 3D, for both buyers and sellers. The new site offers standard categories with a 3D addition to the menu bar which is unique to gig websites. During a recent interview, Faye Gram, site owner, stated, "It just makes sense with the popularity of gigs and 3D to put the two together. We still offer 2D gigs because not everything works better in 3D. But, for those who love 3D, there now is a place to buy and sell 3D products and services at three different price points: $5, $50 and $100. With our USA freelancer select button option, consumers can choose to purchase exclusively in the USA which can help stimulate our economy." She continued, "We all want to increase our online income as much as we can, and this means expanding your exposure to your buyers. So sellers, create your Gig Website profile, advertise your service and build your business with us as we move forward. Buyers, enjoy the benefits of finding an array of products and services to help your business grow in 2D or 3D according to your business needs."The website is designed to be user friendly. Freelancers offer micro products and services such as article writing, translations, website creation and promotion, video creation and graphic design. The site is convenient and fun for national and local businesses to network, buy and sell products and talents.
###
Contact
GigWebsite.net
Faye Gram
561-318-7292
www.GigWebsite.net

Contact