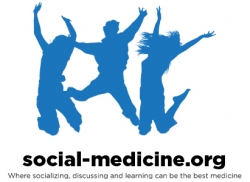 Melbourne, Australia, March 14, 2012 --(
PR.com
)--
Social Medicine
opens the doors for patients that were not previously made available. Patients now have the opportunity for:
· Instant two way communication to help bring patients closer
· Supportive communities through enhanced functionality
· Friend circles to allow patients to connect and bond with others globally
Social Medicine (Social-medicine.org), a health based social networking site, helps people suffering from a variety of health conditions, to globally connect, help and share information with others in similar situations, by focusing on bridging the gap of patient-to-patient communication, and patient-to-practitioner communication, with all the social networking features and functionality expected in today's society.
Community Support
Social Medicine fosters community support, where real people in similar situations come together, to circumvent negative feelings like disconnection and loneliness, and focus on improving self-esteem, understanding, communication, relationships, and peer support.
"As a psoriasis sufferer, I know first hand how hard it can be to deal with an illness, without that all essential support from people who truly understand. After spending years managing my condition alone, I turned to the Internet for help. I found a sheer number of forums, blogs, and communities, in which psoriasis was discussed, but I didn't find it to be a personal experience," says Michael Dornan, the creator of Social Medicine.
Social Medicine's online health communities does not show any geographical boundaries; anonymity from stigmatizing, embarrassing, and sensitive issues; increasing self-disclosure; and encouraging honesty. Even people with rare diseases can find peers online. The anonymity of online communities may facilitate the participation of certain people, who may be culturally and socially conditioned not to ask for help and support.
Understanding Patient's Difficulties
Why are patients turning to the web for information? There are increasing demands of consumer driven health content. It is seen that 48% of people with cancer reported that they had insufficient information provided by their physicians, while 20% were not satisfied with the information given and 39% of women with breast cancer indicated that they wished that they had help with knowing what questions to ask. (Gunther Eysenbach MD, MPH, The Impact Of Internet On Cancer Outcomes, American Cancer Society, 2003). However, dissatisfaction with information provided is not the only reason why patients turn to the Internet.
Social Medicine aims to better understand how people are connecting and sharing information about their medical conditions, the various treatments and products they are using. As communication on medical conditions is already undertaken in forums to some extent, these forums are now falling behind in functionality that would significantly improve patient's experiences if communication was shared on social networking platforms.
There is a great need for more information. Patients want to know what other patients have done, used or experienced with their condition. The provision of information provided to patients has been shown to help them gain control, reduce anxiety, create realistic expectations, promote self-care and participation, and generate feelings of safety and security. The satisfaction with information provided has been shown to correlate with quality of life. People, who feel satisfied with the adequacy of information given, are more likely to feel happy with their level of participation and in the overall process of decision-making.
Psoriasis Social, the initial platform that paved the way for Social Medicine, demonstrated that patients understood what a social network for their condition offered over forums and other sites. "Psoriasis Social took off with a speed that surprised me. In a short period of time, approximately 400 people globally, registered and became friends. My simple goal was to give psoriasis sufferers a voice, a sounding board, and a close-knit and supportive community for people who understood, what it was like to live with the condition. Soon Social Medicine was born, a platform for those who suffer from a range of illnesses and conditions, now have a community driven support network, and an avenue for organisations who may like to reach out to people via this platform or support its development," says Michael Dornan, founder of Social Medicine.
It's About Patient Engagement
Society is moving on from forums and blog sites. Forums can be seen as static, where the information stored is already considered dated, and house no personal experience or instant communication. Social Medicine is about the personal experience, offering instant communication on a global scale.
Illness sufferers know more about themselves and how they are feeling, than any medical practitioner. Medical practitioners need to get involved, they should not sit back and avoid the noise made by patients. Social Medicine aims to capture patient information, products and treatments, and channel it through to reduce noise.
Consumer driven health content inspires people by outlining real life experiences. There are increasing demands in medical content, written by real people suffering from real illnesses. There are also increasing demands of:
· Supportive health communities, psychological and social support
· Good source of information
· Sense of belonging to health communities, eliminating loneliness and disconnection
· Comfort and talking to others suffering from the same condition, provides piece of mind, knowing that they are not alone.
When people hear the words social networking, they think of Facebook, a site everyone knows how to use. The big question, is Facebook the right place for patients? Illness specific groups have formed on Facebook, representing important sources of information, support, and engagement for patients with chronic disease. However, is Facebook the correct place to house these illness groups? Relatively little research has been completed on Facebook to explore what information is requested by patients, the unsolicited information that is provided, or the real reasons why these communities exist on Facebook. This valuable source of information is lost in Facebook. Beyond a low level of screening for offensive posts, there aren't any editorial monitors or fact-checkers on Facebook.
Social Medicine has a Facebook style technology, but with new and enhanced methods of engagement, allowing patients to share and collaborate health content, to empower and educate them. "Your profile is what makes you stand out in your community; make friends, upload your photos and videos, and write on walls, chat live to others one to one or in groups or comment on the blogs within your community. However more functionality is ready to deploy such as a mobile application, events creation, creating groups and polls, and a featured product store," says Michael Dornan.
Further information on specific features:
· Friend Circles and Groups – Patients can become friends with other patients on a global scale
· One to One Chat – Patients can chat live and in private with each other
· Group Chat – Groups of patients can chat live
· Blogs and the Wall – Patients can post a quick question or comment (text, video and photos) on the wall for other patients to respond or rate to push the most popular comments at the top of the list on 'Highest Rated', 'Most Popular' or 'New.'
· Match – Patients can be matched with other patients of similar characteristics.
· Analytics – Social Medicine has a reporting and analytics layer. The medium to long term intention is to share aggregated data with pharmaceutical companies and medical device makers, who can help improve health and make a difference to healthcare and patients.
Medical Professionals
Medical professionals are encouraged to join the social revolution and begin to communicate with real people suffering from conditions on a social level. They can learn from patients and help them deal with their condition:
· What has or hasn't worked for patients
· Is their disease progressing fast or slow
· How are they coping and what are the next steps
The activity found on Social Medicine can accelerate the speed of clinical research of certain conditions by collecting and analysing discussions, be it live chat, wall posts, blogs, or survey data, and further informing patients about the relevant products to be using for their conditions.
Medical professionals can better understand the social aspects in dealing with conditions on a global scale. Medical professionals have lost the ability to socially interact with people suffering from medical conditions since the small community doctor disappeared, and now have an opportunity to bring that back.
The Plan Moving Forward
Social Medicine is a new world of social networking, that promotes exchange of knowledge, ideas and information, making user experience an energizing and a rewarding one. People understand social networking and want to be a part of it:
· Facebook is for socialising with family and friends
· LinkedIn for your professional contacts
· Twitter for micro blogging
· Social Medicine for your heath
Social Medicine's vision is to better understand how people are connecting and sharing information about their medical conditions, the various treatments and products they are using. The data found will then be turned into information and translated into knowledge, accessible to medical practitioners to help patients on a global scale.
Social Medicine is looking to engage with medical professionals to add value to their own brand and generate brand awareness when interacting with patients. When patients begin to socially discuss products, their condition and treatments, this level of information is captured and is an invaluable source of information for medical professionals. Capturing this level of information allows medical professionals to narrow in and geo target patients on their location, condition, or other demographic characteristic, and consult with them in real time.