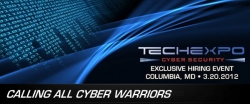 Columbia, MD, March 15, 2012 --(
PR.com
)-- In support of the Nation's ongoing mission to safeguard & secure our cyberspace, TECHEXPO Cyber Security will hold its semi-annual hiring event on March 20th in Columbia, Maryland. Over 35 defense contractors, federal agencies & government service companies will be conducting face-to-face interviews for immediate career opportunities. The job fair will be held at the Sheraton Columbia Town Center in Columbia, MD and is free for all job seekers & veterans to attend.
Tuesday, March 20th
Speaker Session: 9am - 10am
Hiring Event: 10am - 3pm
Sheraton Columbia Town Center Hotel • 10207 Wincopin Circle • Columbia, MD 21044
In addition to on the spot interviews, attendees will have the opportunity to learn from some of the industry's most respected professionals:
• William Jimenez - Director of Staff & Business Operations, Department of Defense Cyber Crime Center (DC3)
• Paul de Souza - Cyber Security Forum Initiative • Founder Director at CSFI - CWD (Cyber Warfare Division)
• Richard Bejtlich - Chief Security Officer & Vice President, MCIRT for Mandiant.
Companies interviewing at the event include: Animetrics, Apptis, AT&T Government Solutions, Air Force Civilian Service Defense Cyber Crime Center BAE Systems, Battelle Memorial Institute, Brandon Technology Consulting, Bridges Consulting, CGI, Cyber Security Forum Initiative, Cyber Squared, Deloitte, Department of Defense Cyber Crime Center (DC3), General Dynamics AIS, General Dynamics C4 Systems, GW University - Cyber Security & Engineering, Honeywell Technology Solutions, Intelligent Decisions, Lexis Nexis, Lockheed Martin, Mandiant, ManTech International, MBA – Csi, NJVC, Northrop Grumman, RSA, the Security Division of EMC, SAGE Management, SAIC, Security University, Sotera Defense Solutions, SPARTA, TASC, The Kenjya Group, The SI Organization, The Van Dyke Technology Group & more.
For details: http://www.TechExpoUSA.com.
About TECHEXPO:
TECHEXPO, a division of Job Expo International Inc., has been helping experienced professionals in a multitude of industries, especially those focused in Engineering, Technology & Intelligence, to the hiring community for nearly two decades. Federal agencies and defense and government contractors seeking Security-Cleared professionals have relied on TECHEXPO Top Secret to fulfill recruitment needs at their career fairs and customized or boutique hiring events. TechExpoUSA.com, which operates as one of the country's leading online career centers, has helped thousands of companies recruit the best talent in the industry and has provided nearly one million professionals with a time effective way to advance their career. Bradford Rand, a seasoned entrepreneur who has produced nearly 900 events to date, founded the company, which is headquartered in New York City, in 1992.
For further information, contact Amanda Alessio, Marketing Director, at 212.655.4505x230 or at AAlessio@TechExpoUSA.com.
The job fair's web site is http://www.TechExpoUSA.com.