Author Alonda Thomas Encourages Parents to Have "The Talk" in Debut Book "It's Okay To Wait"
New book highlights a father/daughter conversation on sex, love and relationships.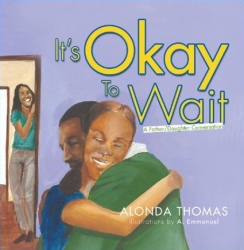 Los Angeles, CA, March 21, 2012 --(
PR.com
)-- It's Okay To Wait: A Father / Daughter Conversation, the debut book by author Alonda Thomas, is designed to take the mystery out of "the talk" when it releases on April 3, 2012. The picture book written for teens and parents depicts the story of a father who sits down with his adolescent daughter to have a discussion on sex. Through his well-earned life lessons and faith principles he describes some of the stumbling blocks she may encounter on the road to love. Sensing that she can speak honestly to her dad without being judged, the daughter reveals her concerns and asks questions about dating, love and marriage. This revealing glimpse into an intimate conversation between a parent and child will educate the young and inspire the young-at-heart.
"It isn't easy to talk to kids about sex, but it is necessary," said Thomas, who wrote the book in response to the advanced sexual awareness of today's youth. "I hope this book will be a useful tool to help start an open dialogue between parents and teens about relationships, self-esteem and discernment."
Although many people traditionally imagine mothers will talk about sex with their daughters, Thomas decided to have a father lead the conversation in her new book as a tribute to the important role a father plays in the development of a young woman's perception of herself and men.
"Alonda Thomas has written a powerful book that will change the way young women approach relationships and how they communicate with their parents," said actor DB Woodside. "As a new father myself, I want my daughter to know she can talk to me about anything and I look forward to sharing 'It's Okay To Wait' with her when the time comes."
Realizing that her work is only half done, Thomas has already begun to raise funds to research and write a second book geared toward young men. She is currently hosting a Kickstarter campaign to raise $7,000 by March 29. A portion of the proceeds will be used to conduct focus groups with men ages 14-30 to reveal how parents have handled conversations with young men traditionally and what advice, if any, would encourage young men to delay becoming sexually active today. Watch her campaign video at
http://kck.st/OkayToWAIT
.
"Everyone wants their daughters to save themselves for as long as possible, but when it comes to sons we're more likely to hear people say, 'boys will be boys,'" said Thomas. "Last time I checked it still takes two, so we need to arm both boys and girls with accurate information about sex...before their friends do!"
It's Okay To Wait: A Father / Daughter Conversation (AuthorHouse, $17.99) is illustrated by A. Emmanuel and will be available on Amazon and Barnes & Noble web sites. For more information, please visit www.alondathomas.com.
About Author Alonda Thomas
Alonda Thomas learned the art of story-telling as an entertainment publicist who rose through the ranks at several of Hollywood's elite companies, including CAA, Sander/Moses Productions, The FrontPage Firm and Edelman before branching out on her own. She enjoys telling the stories of a variety of clientele, including actors, authors and comedians. Alonda is a graduate of Florida A&M University and she received her master's degree in integrated marketing communications at Florida State University. Originally from Miami, Florida, Alonda is currently single and "waiting" while residing in Los Angeles, CA. Follow Alonda on Twitter @alondathomas.
Contact
ATPR
Alonda Thomas
305-725-5262
alondathomas.com

Contact