Surgeons Using Collagen Fibre Sheets to Speed Healing & Decrease Bruising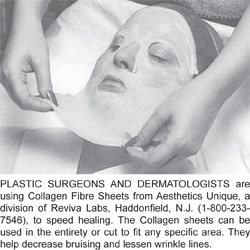 Haddonfield, NJ, March 27, 2012 --(
PR.com
)-- The 100 percent freeze-dried Collagen Fibre Sheets supplied to skin salons by Reviva Labs, Haddonfield, N.J., through its Aesthetics Unique division, is being used by post-surgery patients to decrease bruising and swelling.
The same Collagen sheets have been used for years to speed healing on irritation following peels, laser-resurfacing, microdermabrasion and other salon procedures.
Originally used in Paris hospitals to speed healing of burns and wounds, and in America, Dr. Joseph Greco, PhD., Sarasota, Florida, reports the Collagen Fibre Sheets have decreased bruising and increased tissue hydration.
Reviva Labs, for years, has supplied to skin salons the same Collagen Fibre Sheets for use as hydrating facial masks that immediately, but temporarily, lessen wrinkle lines, and help diminish under-eye bags and circles.
The 8 ½ x 11 ½ velvety-soft Collagen Fibre Sheets can be cut into shapes for individual facial needs.
Available from Reviva Labs professional "Aesthetics Unique" division at 800-233-SKIN (7546), or fax at 856-429-0767.
Contact
American News Services
Joe Ball/Elena Cruz
484-562-0060

Contact