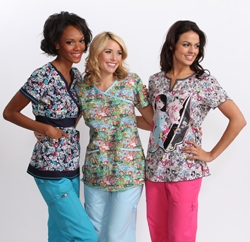 Santa Monica, CA, March 28, 2012 --(
PR.com
)-- Medical uniforms just got a little more stylish and fun. tokidoki and leading fashion scrub maker koi are teaming up to launch the new tokidoki by koi collection of designer scrubs for Summer 2012.
Arriving in stores in April 2012, this highly anticipated collection will feature a special grouping of koi scrubs with exclusive designs created by renowned tokidoki designer and artist Simone Legno. With a limited production run, the collection is expected to sell out quickly.
This new collaboration is the second between tokidoki and koi. Previously, in 2008, the companies teamed up to create a limited edition scrub set. The new tokidoki by koi collection is the result of a recently signed licensing agreement between the two companies. Additional tokidoki by koi items will be added each coming season.
"Our customers have been asking us for more tokidoki scrubs," said koi founder and owner Kathy Peterson. "We're excited to be working with tokidoki again. I love the creative energy and spirit of their designs."
The Japanese-inspired designs of tokidoki are rich with duality. Laughing flowers, winking stars, coy babies, sultry ingénues, rainbows, and children, among many other incredible artistic visions populate the world of tokidoki. The designs are provocative yet pure, cute and playful, sexy and sophisticated.
The tokidoki by koi designer scrub tops in the Summer 2012 collection include:
Kiki Scrub Top
Pattern: Surfer
Style Number: 186PLM-SRF
Sizes: XS—XL
Suggested Retail Price: $34.00
Rylee Scrub Top
Pattern: Day Off
Style Number: 147PR-DOF
Sizes: XS—3X
Suggested Retail Price: $30.00
Kai Scrub Top
Pattern: Magic
Style Number 185PR-MGC
Sizes: XS—3X
Suggested Retail Price: $30.00
About tokidoki
tokidoki, which translates as "sometimes" in Japanese, is the vision of Italian artist Simone Legno and his partners, serial entrepreneurs Pooneh Mohajer and Ivan Arnold. Since debuting in 2005, tokidoki has amassed a cult-like following for its larger-than-life characters and emerged as a sought-after global lifestyle brand. This innovative company is known not only for its eye-popping aesthetic and criminally cute characters but also its megawatt partnerships with the likes of mega brands such as, Hello Kitty, Karl Lagerfeld, LeSportsac, Barbie, Onitsuka Tiger, Marvel and others. tokidoki is sold in its own retail stores located in Milan, Los Angeles and Santa Monica, CA. For more information, please visit www.tokidoki.it.
About koi
Founded in 2006 by veteran fashion designer Kathy Peterson, koi specializes in stylish, form-flattering scrubs for women and men. koi designs quickly struck a chord with fashion-starved medical professionals bored with the traditionally drab options available. The company has rapidly grown to be sold in more than 1,000 retails stores worldwide and earned a passionately loyal following among fashion-savvy healthcare professionals. For more information, visit
www.koihappiness.com
, and find us on Twitter and
Facebook
.
For More Information, Contact:
Abba Al Meftah
koi design LLC
310-828-0055 ext. 218
abba@koihappiness.com
tokidoki Media Contact:
Marla White
SnL Communications
310-996-0239
mwhite@snlc.net