"Mode One" Author to Sponsor Personal Development Workshops for Single Men
Do you become bashful and tongue-tied when in the company of attractive women? Do you want to learn how to converse with women with more confidence? Do you want to learn the secrets of recognizing women's natural 'body language cues'? If all of the above apply to you, then you want to sign up for one of Alan Roger Currie's 'Mode One' Personal Development Workshops for Men. The first workshop is set to take place in Chicago on May 18-20, 2012.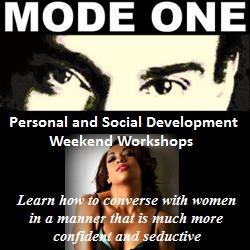 Chicago, IL, March 29, 2012 --(
PR.com
)-- Alan Roger Currie, the Founder of Mode One Multimedia, Inc., and author of the popular paperbacks, "Mode One: Let the Women Know What You're Really Thinking" and "Oooooh . . . Say it Again: Mastering the Fine Art of Verbal Seduction and Aural Sex," is set to sponsor a number of personal and social development workshops geared specifically toward single heterosexual men who frequently find themselves at a "loss for words" when in the company of very attractive women.
Currie was a featured speaker at The Direct Approach Dating Summit UK that was held in London, England in November, 2010, and he was most recently the headline speaker at the The Direct Approach Dating Summit USA that was held in Las Vegas, Nevada on March 17-18, 2012. Currie's books have been read by men in twenty different countries, and many of his supporters have been asking him about sponsoring a "verbal seduction bootcamp" or something similar.
"A number of my fellow speakers at the last two Direct Dating Summit events I spoke at have their own 'bootcamps' and 'weekend workshops' that cost anywhere from $1,000 to $3,500. Ideally, I want my weekend personal development workshops to be a wee bit more affordable, but I want my participants to leave the workshop feeling like a totally new man. These workshops have been in demand for a while, and finally, I am ready to deliver," said Currie, who in 2009 taught a six-week college-level dating and relationships adult education course in Northwest Indiana entitled, "Dating for 21st Century Singles" that received rave reviews.
The Mode One Personal and Social Development Workshops will focus on improving one's public speaking skills; Improving social interactions and personal conversations with single women of interest; Clothing, grooming, and personal style tips; Learning the secrets of powerful verbal seduction skills; Strategies for improving one's eating and exercise habits; Handling harsh criticisms and negative reactions from women who are "drama queen" types; and recognizing very subtle body language signs and cues from women who may be bashful themselves.
Currie's first workshop will take place in Chicago on May 18-20, 2012. The workshop will run from 8:00pm CST on Friday until approximately 3:00pm CST on Sunday. The tentative venue is the Chicago Marriott Downtown Magnificent Mile Hotel. Later, Currie plans of having workshops in Austin, TX, Los Angeles, Miami, New York City, Bogotá, Rio de Janeiro, Montreal, and a number of other cities where the demand is high.
Those men who have already purchased all three of Currie's paperbacks will receive a 10% discount on the registration fee. In addition to being a book author, Currie is also the Host of two popular talk radio podcast programs: "Upfront & Straightforward with Alan Roger Currie" (The #1 most listened to dating and relationships program on BlogTalkRadio) and "The Erotic Conversationalist."
For more information, visit
www.modeone.net
or contact weekend_workshops@modeone.net
Contact
Mode One Multimedia, Inc.
Brenda Howard
219-789-1948
http://www.modeone.net
weekend_workshops@modeone.net

Contact