TRIAL.COM® Launches Electronic Newsletter Powered By PinHawk
PinHawk technology delivers news from TRIAL.COM® member firm websites to 8,000 attorneys.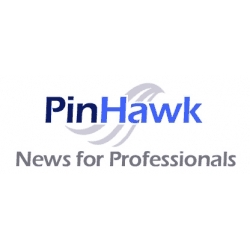 New York, NY, May 31, 2007 --(
PR.com
)-- The Network of Trial Law Firms, Inc. (TRIAL.COM®) has selected PinHawk to produce and distribute its weekly electronic newsletter.
The new TRIAL.COM® weekly email aggregates news from the 110 offices of the organization's 26 member law firms in the U.S. and Canada, as well as from its web site at TRIAL.COM®. The Network's weekly email is distributed to the organization's 6,000 attorneys at member firms and to more than 2,000 clients.
Ellis Mirsky, Esq., Executive Director and General Counsel of the Network, said, "We need to keep 6,000 attorneys in member law firms informed about activities across the Network. We also want to let the legal community know about professional accomplishments of our 26 member firms. Our weekly email meets those goals. PinHawk's software crawls member firm websites collecting relevant news. In minutes, I review and edit the collection of news articles and send it to our 8,000 address email distribution list. We produce a high quality, up-to-date newsletter in a fraction of the time that would otherwise be required."
PinHawk's Joe Bookman says, "The Network's TRIAL.COM® email is a perfect application of PinHawk technology. We take content from many on-line sources (in this case, 26 member firm websites), and bring everything together into one email. Collection and distribution are done automatically. Each member firm contributes content to the TRIAL.COM® newsletter simply by updating their website. They don't have to become involved in the newsletter editing process. We help the Network produce a great communication tool with a minimum of human resource. The materials are already on the web. We publish it in an easy-to-read format with hyperlinks to member firm websites. It's an effective traffic driver as well."
To receive a complimentary subscription to Trial.com Firm News, visit www.trial.com/firmnews. For more information about PinHawk and the NewzDigest service, visit www.pinhawk.com.
About The Network of Trial Law Firms, Inc.
The Network of Trial Law Firms, Inc. is a not-for-profit business league producing cutting edge live and on-line streaming video litigation management continuing legal education for member firm attorneys, their clients and in-house law departments. The goal of the 26 law firms participating in the Network is to provide their clients with high quality trial and litigation representation through advances in education, technology, business and science. The Network is engaged in a number of activities to assist law firms to accomplish that goal including research and study of advances in the state-of-the-art of legal representation, and production of CLE seminars for continuing legal education of corporate and outside counsel and insurance professionals. CLE programs aid in the dissemination of new information and effective techniques and technologies to attorneys and claims professionals serving corporations and insurers.
Since 1993 The Network has conducted three-day CLE seminars focused on excellence in litigation management and trial results. The Network of Trial Law Firms is the home of the "Litigation Management Supercourse," a program created by Network attorneys in 1988 which has been produced and updated more than 40 times since then, sometimes together with other not-for-profit CLE organizations and bar associations. (for information)
About PinHawk LLC and the NewzDigest Service
PinHawk LLC is a privately held company based in New York City. The company maintains and promotes its NewzDigest and Web Alert services.
The NewzDigest Service distributes daily topic-based electronic newsletters with industry specific news content to professional end-users and to large organizations, their clients, and their prospects. PinHawk emails are either private labeled for a client or distributed under the PinHawk label.
Publicly available PinHawk daily emails for the legal community include: Law Firm News, Securities, Corporate Legal, Court Opinions, Law Firm Press Releases, Law on the Blogs, Hedge Funds, New York Real Estate, and Chicago Law Firm News. Two week trials of these electronic newsletters are available at www.pinhawk.com.
Web Alert Service technology enables intranets and web sites to display PinHawk collected news. These alerts are updated throughout the day.
For information: PinHawk LLC
Tel.: (212) 363-7766
Fax: (212) 785-0848
Email: sales@pinhawk.com
Web site: www.pinhawk.com
###
Contact
PinHawk LLC
Jack Hagouel
212-363-7766
www.pinhawk.com

Contact
Multimedia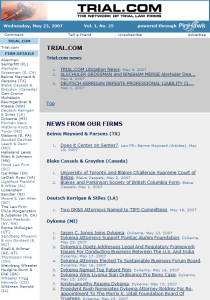 This partial view of the newsletter demonstrates the service offered by Trial.com to its member firms using PinHawk technology.