TFI Envision Puts a Face to the Issues That Keystone Clients Deal With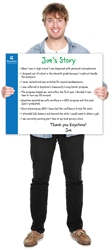 Norwalk, CT, April 17, 2012 --(
PR.com
)-- Some issues are just hard to put a face to. For people with psychiatric disabilities, they often feel 'faceless' and unnoticed. And unfortunately, so do the issues that make their lives more difficult than most. At Keystone's May 10th "Growth Towards Independence 18th Annual Silent Auction & Dinner", there will be 7 'guests' there to help put a 'face' to the issues that Keystone clients deal with.
TFI Envision, Inc., an award winning Norwalk based Design/Marketing firm, volunteered their time and talent to work with the staff at Keystone to 'create' 7 profiles of fictional people based on their 40 year experience in providing residential and psychosocial services for adults with psychiatric disabilities in the greater Norwalk area. Each 'person' will provide a different scenario on the daily issues and for many, life long struggles, of living with a psychiatric disability. These life size representations will be placed throughout the event at Continental Manor.
"Putting a face on an issue helps to engage people in an issue that people shy away from. Each of the life size profiles tell a different story and help everyone to understand the struggles these folks endure and how Keystone has helped them bring a sense of 'normalcy' to their lives," said Elizabeth P. Ball, President / Creative Director of TFI Envision, Inc.
In addition, this annual event features a speech from one of Keystone's clients, describing how much of an impact Keystone has had on that person's life. It is a powerful message of growth, hope and independence - first hand.
Keystone clients are adults, over the age of 18, who have a psychiatric diagnosis that is deemed severe and prolonged. Some have been very disabled by mental illness and have been in the hospital for years, some for just a few days, and some have never been hospitalized. Almost all clients have low or very low income and no private insurance that would cover all services received at Keystone House. Many clients would be at risk of homelessness without the support of Keystone.
Keystone House provides help to clients in finding employment through a collaborative relationship with other not for profit providers. An Employment Specialist provides on-site support for all of our programs. Case management services are provided for all residential clients. The Community Living Center staff assist clients in linking to community supports.
"The Keystone staff inspired me to get well by giving me coping skills and helped me to relearn my living skills," said one of Keystone's Clients.
The goal of psychiatric rehabilitation is to help disabled individuals to develop the emotional, social and intellectual skills needed to live, learn, work and play in the community with the least amount of professional support.
Keystone offers Sponsorship opportunities for this event that offer area businesses an opportunity to promote their business or services to over 180 attendees. Call 203-855-7920 x 7818 for more information.
The "Growth Towards Independence 18th Annual Silent Auction & Dinner" will be held at Continental Manor, 112 Main Street in Norwalk on May 10, 2012 at 5:30pm. To purchase tickets, become a sponsor or an advertiser, call Keystone at 203-855-7920.
Keystone, a 501(c)(3) not for profit organization. Their administrative offices are located at 147 Main Street, Norwalk, CT 06851 www.KeystoneHouse.org
Contact
TFI Envision, Inc.
Elizabeth P. Ball
203-845-0700
www.tfienvision.com
203-919-6545

Contact