Will the "Powers That be" Censor This New Book About a Modern-Day Psychic Who Prophesied & Facebooked Kate's Top-Secret Royal Wedding Dress & Osama Bin Laden's Death?
A Few Days Before They Happened, the Facebook Nostradamus Prophesied Kate Middleton's Closely Guarded Design of Wedding Dress at Her Royal Wedding and Osama Bin Laden's Shocking Gory Death.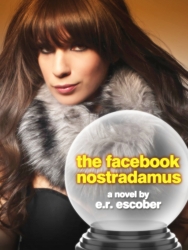 West Palm Beach, FL, April 20, 2012 --(
PR.com
)-- These two major events happened a few days apart but author (and sometimes psychic) E.R. Escober saw them happen in his dreams a few days earlier. The author explains:
April 27, 2011: On a trip with his partner to California, author dreamt about the impending "Royal Wedding." He clearly saw Kate walking down the aisle, displaying every detail of the most closely guarded secret of the royal nuptials: the V-neckline with full-length sleeves, the see-through lace top with appliqué flowers, the sleek A-line skirt, even the way she wore her hair down and pulled back from her lovely face! When author woke up the next morning, he quickly took notes and sketched the dress before the images could dissolve. Author posted on his Facebook page: "I dreamt Kate's wedding dress was partially see-thru!" Totally lame! He should have described it in detail, uploaded the drawing, but he chickened out. What if it didn't come true? He'd be the butt of his Facebook friends' jokes! Of course, come Friday, he kicked himself when he saw his wedding dress dream unfold on live TV.
April 30, 2011: Author dreamt that Osama Bin Laden was killed! Author saw his disfigured bloody face in all its technicolor glory (gory?). The following morning, he scribbled on a Post-it: Osama …dead! While packing for their trip to Las Vegas later that afternoon, he agonized about posting this one on Facebook and finally decided against it. Scary thoughts of men in black barging through his door came to mind. Of course he and his partner arrived in their hotel room in Vegas around midnight and he turned on the TV and there it was! Needless to day, they didn't enjoy Vegas.
Depressed, they left Vegas for home. A couple of weeks later, he had a revealing dream that showed him how his life could have turned out if he had posted those two dreams on Facebook.
The Facebook Nostradamus is the fictionalized imagining of author's life as seen in that third dream. In this novel, readers will read about a modern-day female Nostradamus' meteoric rise to fame and fortune as her prophetic "big world event" dreams, which she had posted on her Facebook page, go viral, creating a hailstorm of buzz among followers and the public. You'll follow her plunge into a heady and chaotic world where reality and fantasy merge, a world oh-not-so where she'd imagined herself to be, a world this dishy, bitchy novel proceeds to skewer hilariously and irreverently.
Indeed, for this modern day psychic, predictions can be a bitch. From the fate of the winner of the number one TV reality talent show to the tragic ending of the finale show of the world's most revered talk show queen, no one is safe from the Facebook Nostradamus' deadly accurate dreams. And no one escapes unscathed— celebrities, public figures, ordinary Joes and Marys, watch out. The Facebook Nostradamus has some choice words for them as she unpredictably rides full speed ahead on her roller coaster of life.
As E.R. Escober, the author, suggests, "Brace yourselves, fasten your Kindles, it's gonna be a bumpy read!"
The Facebook Nostradamus is available at Amazon and other major online booksellers.
Contact
EREBROWN
Ed Brown
510-501-1467
thefacebooknostradamus.com

Contact