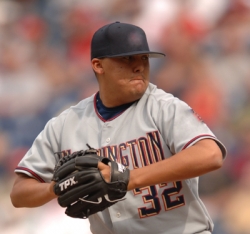 Bethesda, MD, April 24, 2012 --(
PR.com
)-- D.C Elite Baseball in conjunction with BCC Baseball and Bethesda Big Train announce the Chad Cordero Celebrity Baseball Camp for Kids Ages 5-16.
Chad Cordero will serve as the full-time Head Coach and the face of the Celebrity Baseball Camp which will be located at the upscale Cabin John complex in Bethesda, MD which hosts the Big Train baseball. The Celebrity camp will be during July 16-20th.
Campers will train daily this summer at state of the art facilities that are the summer home of the Bethesda Big Train college wooden bat league and BCC Baseball. Shirley Povich Field and adjoining fields are maintained by the National Park Service to maintain the best practice facilities in the Washington, D.C area. This facility and the main field is also home the Georgetown University Baseball team.
D.C Elite Baseball, BCC Baseball and Bethesda Big Train Baseball provide focused, intensive training that is essential to improvement for all skill levels. Every facet of the game is covered with an emphasis on fundamentals to help players become valuable team members. Each day campers are broken into groups with other players of similar age, abilities and goals. Each camp director, including Cordero as well as other former Major and Minor League players, does their best to advance players to the next level, keeping in consideration each camper's experience and desire to improve. We strive to live by our motto of, "Not Your Average Celebrity Baseball Camp."
Cordero is looking forward to his return to D.C, as hasn't been back to the D.C area since leaving the Nationals after the 2008 season. "I think it's going to be a lot of fun," he says. "The fans in D.C. treated me really well. Being able to do this camp and give back to the fans that supported me means a lot. I had a great time while I was in D.C. I haven't been able to make it back there since I got hurt, so once this opportunity was presented to me I couldn't pass it up. I can't wait to reconnect with the fans and go to some games while I'm out there."
What: D.C Elite Baseball and Bethesda Big Train Present Chad Cordero Celebrity Baseball Camp
Where: 10600 Westlake Drive, Bethesda, MD 20852
When: July 16-20, 2012 9am-3pm
Special athlete and celebrity guest appearances.
For more information on all of the events or to register campers or for more information visit www.dcelitebaseball.com www.bigtrain.org.
About D.C Elite Baseball and Bethesda Big Train
D.C Elite Baseball based in Washington D.C is Washington's newest sports camp network to partner with a longstanding local leader in summer baseball programs presented by BCC baseball and Bethesda Big Train with one core value and mission, to shape a lifelong enjoyment of athletics through high quality sports education and skill enhancement.
Media Contacts:
Sol Tucker, Managing Partner, Media Director Operations D.C Elite Baseball
sol.tucker@pushmediagroup.com
301.442.5627
Andrew Lang, Camp Director and Executive Partner D.C Elite Baseball
Andrew@AllstarsPlus.com
202.716.8500