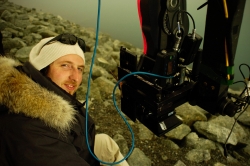 New York, NY, June 02, 2007 --(
PR.com
)-- HomeNYC's Ben Orisich was recently recognized for his directorial talents by Shoot's 5th Annual New Directors Showcase. The IZOD commercial, 'In The Snow,' which earned Orisich this distinction, also marked his national debut as a commercial director - and was one of two of the director's spots which aired during this year's Super Bowl.
Orisich, along with 24 other individual directors, a three-person team and a directorial duo, received this honor at the Directors Guild of America (DGA) Theater in New York City on May 23rd. The event, which was attended by over 400 industry professionals, began with a screening of the 2007 New Directors Reel, followed by a panel discussion with several of the directors, as well as Bonnie Goldfarb, founder of Harvest Films and Peter Nichols, chief creative officer at Deutsch, Inc, and concluded with a cocktail party.
Orisich, a founding member of HomeNYC, directed the high-impact 30-second commercial for IZOD's PerformX sportswear line on location in Iceland and the Bahamas. The director, who is also an award-winning effects artist and creative director, designed and executed the visual effects for the spot at the full-service SOHO-based editorial, production, design and finishing boutique.
To screen Ben Orisich's reel, and for additional information about HomeNYC, its talent and creative services, contact Zdenka Glavan at 212.989.6217 or visit www.HomeNYC.TV.
'In The Snow' http://www.homenyc.tv/HomeWork/Archive/Izod_In_The_Snow.html
Ben Orisich's Reel: http://www.homenyc.tv/Artists/Ben_Orisich.html
###