Amazing Opportunity to Co-Produce and Appear in the Adventure Travel Television Series "Another Shade of Blue with Ty Sawyer" in Martinique Through Kickstarter.com
The stunning TV series "Another Shade of Blue with Ty Sawyer" produced by Wright Productions is looking to produce season two with funds from an innovative source, Kickstarter.com. Kickstarter.com provides companies and entrepreneurs the ability to fund creative projects through pledges with their social networking media platform. "Another Shade of Blue" is offering producer credit, walk on roles, as well as many other incentives for sponsorship of the project.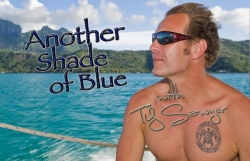 Los Angeles, CA, May 02, 2012 --(
PR.com
)--
"Another Shade of Blue with Ty Sawyer"
, an adventure travel television series, has started a huge promotion on Kickstarter.com to help fund the second season of production for the series. Kickstarter.com is an innovative fund raising platform for young companies and entrepreneurs to finance creative projects through social networking avenues. Contributors are offered unique opportunities to be a physical part of the project or to be a sponsor with perks associated with different levels of cash donations. Wright Productions is offering two sponsors the opportunity to be designated as Executive Producers, as well as the prospect to go on location in Martinique and take part in the Martinique episode as an extra. Wright Productions is also offering the designation of Co-Producer status on "Another Shade of Blue", in addition the sponsors will have the opportunity to meet with Ty Sawyer and the editors at work in their studios in Southern California. Kickstarter.com offers sponsors the opportunity be an integral member of a creative project with monetary donations at all levels, starting as low as $10.
Kickstarter.com is one of the most interesting platforms available today, providing companies an avenue to raise funds for projects. "Another Shade of Blue" is hoping to raise $30,000 with Kickstarter for it's next episode in Martinique. "Another Shade of Blue" is currently broadcast on Koldcast.tv, Tuff TV and Sky Angel Network in the U.S.
Contact
Wright Productions, LLC
William Wright
951.699.3636
anothershadeofblue.tv

Contact