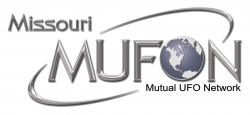 Kansas City, MO, May 04, 2012 --(
PR.com
)-- In response for information about the highly publicized 2011 Kansas City UFO flap where over 87 UFO reports were filed during the month of October, Missouri MUFON is hosting the High Strangeness in Missouri conference in Kansas City on May 20. The event will feature a 30 -minute question and answer session with popular Coast-to-Coast AM talk radio host George Noory live via Skype; Missouri MUFON Assistant State Director Margie Kay will present the 2011 UFO Flap in Kansas City which includes close encounters, missing time and possible abductions.
Nightwatch radio show host Todd Sheets will discuss paranormal events in the area; Physical trace evidence UFO researcher Ted Phillips will present Into the Marley Woods, an ongoing investigation into unexplained events in Southeast Missouri; Nuclear Physicist Stanton Freidman will present Science was Wrong via Skype; and Missouri MUFON State Director Debbie Ziegelmeyer will discuss the Strangest UFO Encounters in Missouri.
The event will be held at the Westport Flea Market Restaurant, 817 Westport Road, Kansas City, MO 64111 from 1:00 pm – 10:00 pm. In the Comedy Club. Chicken Spedini dinner is included with registrations received by May 14. The registration table opens at noon and on-site registrations will be accepted on a space-available basis and must be paid for with cash only.
For more information and a registration form www.missourimufon.org or contact Margie Kay at margiekay06@yahoo.com or 816-833-1602.