Cornelius, North Carolina-Based StayConnect Electrical Solutions Awarded 2012 DIY Network / National Hardware Show Best New Electrical/Plumbing Product
The National Hardware Show®, which was held May 1-3 at the Las Vegas Convention Center, has long been known as the place for the home improvement industry's manufacturers to unveil their latest products and innovations to the global marketplace. It only stands to reason that the show also serves as the place for the industry to recognize manufacturers for their achievements.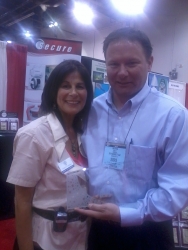 Charlotte, NC, May 08, 2012 --(
PR.com
)-- Cornelius, North Carolina-based StayConnect Electrical Solutions announces that their newest product, the Outdoor - StayConnect Outlet Cover received Best New Product in Class 2012 by the DIY Network and The National Hardware Show on May 3, 2012.
The Outdoor StayConnect Outlet Cover is designed to keep your electrical cord plugged-in to the outlet while using a vacuum cleaner, leaf blower or any electrical power tool and Placed 1st out of over 400 new products. The StayConnect Outlet Cover was invented by Michael Schutte out of the frustration of constantly pulling the cord from the wall while doing simple chores around his home. "We were blown away!" stated Michael, as the award was presented to him and his wife Tracey by Cheryl Fishbone of The National Hardware Show.
StayConnect® is heading into a remarkable year of 2012, being customers of Ace Hardware as True Value Hardware just brought them on as a vendor. "We are selling in Canada and have meetings scheduled with Wal-mart, Kroger's, Amazon and other retailers. It's been a fabulous year so far and this is icing on the cake."
StayConnect's long term goals are to develop a consumer-based brand of electrical products and they are doing just that. "We are launching the StaySafe™ Child Resistant Plate alongside of the Outdoor StayConnect Outlet Cover. The StaySafe™ Child Safety Plate has locking doors so as a child cannot access the outlet. It has received great reviews from retailers and we are in talks with these retailers to carry the StaySafe™ line by StayConnect®. It is extremely exciting," states Michael.
Contact
StayConnect Electrical Solutions
Michael Schutte
704-200-8127
www.stayconnect.com

Contact
Multimedia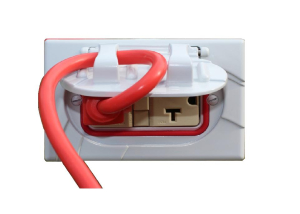 Michael Schutte invented product then started new company out of frustrations of being un-plugged.