Texas Jewelry Designer Selected to Create Jewelry Gift for Oscar-Nominated Actor Ryan Gosling
Alison Julien Collection Designs Exclusive Men's Jewelry Accessory for Hollywood Actor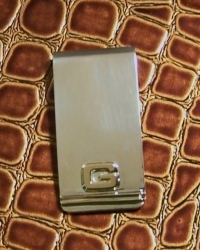 Corpus Christi, TX, May 09, 2012 --(
PR.com
)-- Jennifer Racette, designing jeweler and owner of Alison Julien Collection, was recently selected in association with The Artisan Group, to design and create a custom Sterling Silver and 14K Gold money clip as part of an exclusive collaborative gift bag prepared for Academy Award-nominated actor Ryan Gosling. The money clip is constructed of heavy gauge Sterling Silver with raised 14K Gold accents which include Mr. Gosling's family initial.
About Alison Julien Collection®
Alison Julien Collection® was founded in 2001 by Jennifer Racette, a Texas-based designing jeweler and metalsmith who began creating jewelry as a hobby in the 1980's. After 20 years in corporate and healthcare management, Jennifer decided to make her passion for jewelry her full-time pursuit. She bid farewell to corporate life and obtained training in metalsmithing and gemology which equipped her with the skills to take her bold and colorful designs to new levels. The Alison Julien Collection® company was eventually born, and offers a full line of fine jewelry as well as Jennifer's boutique line of handcrafted fine artisan jewelry. People frequently approach Jennifer in public wanting to know about the jewelry she wears, and her clientele spans the globe.
To learn more about Alison Julien Collection and our products, or our participation in The Artisan Group's celebrity gifting initiatives, visit http://www.alisonjuliencollection.com, email alisonjuliencollection@hotmail.com, or phone 361-813-1599.
Alison Julien Collection® is based in Corpus Christi, Texas and Jennifer's jewelry designs can be seen at http://www.alisonjuliencollection.com and at exclusive arts events and gem shows throughout Texas.
For press inquiries regarding The Artisan Group, please visit http://www.theartisangroup.org or email press@theartisangroup.org.
Contact
Alison Julien Collection®
Jennifer Racette
361-813-1599
www.alisonjuliencollection.com

Contact