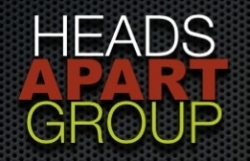 New York, NY, May 09, 2012 --(
PR.com
)-- Recognizing the urgent need to bring an insider's perspective to digital media and online advertising sales recruiting, Gary Bembridge, 17-year industry veteran and sales leader, has launched a talent acquisition service. Heads Apart is a boutique recruiting and consultation service, specializing in executive search for Sales, and Business Development, from Junior Account Executive to CRO levels. Heads Apart has offices in New York City, Los Angeles, San Francisco and Chicago. In his role as CEO and Founder, Bembridge will focus on helping to acutely define the mission and success factor requirements for each Heads Apart client.
"Today the need for endemic knowledge within the recruiting walls of digital media and online advertising is glaringly obvious," said Bembridge. "Hiring managers prefer to work with a research firm that has deep knowledge of the online industry and marketplace. Heads Apart sets the tone as a true partner for recruiting top talent in online advertising by owning the process and installing a native core competency interviewing system that significantly elevates the recruiting process for most digital media companies.
Bembridge went on to say, "Hiring managers are stressed trying to make challenging revenue goals. Add a side job of poring over dozens of resumes plus consumption with worry about competition for candidates and the situation leads to making the wrong hires time and again."
Since launching Heads Apart, Bembridge and his team of veteran researchers have seamlessly transferred their digital media expertise for hiring, training and developing sales organizations into a very active recruiting service. In addition to recruiting future sales leaders across social, mobile and video and display platforms, Heads Apart serves as a strategic sparring partner to international firms seeking market entry into the US. Current clients range from venture backed early stage companies in ad tech to mid stage and established media giants.
Gary Bembridge has maintained a distinguished career in the online advertising industry, serving in senior sales roles across Strategic Sales and Executive Sales Leadership while growing an estimated $500MM in revenue. Before he founded Heads Apart, Bembridge built several superior performing sales teams from startups to mature environments. While at Microsoft, Bembridge recruited and built the initial sales team for MSN Bing, and grew revenues from $8.5MM to over $158MM in three years, while building a world-class sales training program.