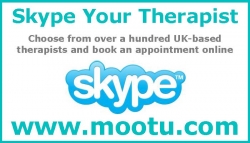 London, United Kingdom, May 11, 2012 --(
PR.com
)-- Online Therapy Institute is pleased to announce that Mootu.com has become Verified, demonstrating to their audience that they support the ethical delivery of online counselling services.
Mootu
is a national network of over a hundred UK-based professional counsellors and psychotherapists who offer one-to-one face-to-face for counselling and psychotherapy online via Skype video. The name Mootu comes from the word mutuality which is a defining characteristic of a healthy relationship.
Counselling and psychotherapy via Skype has a number of clear advantages over the more traditional method of going to see a therapist in person. The first advantage is choice. The client's choice of therapist is not limited by their location. Mootu has a wide range of professional counsellors and psychotherapists from all over the UK and the client has the freedom to choose any of them. The second advantage is convenience as there is obviously no need to travel to and from the therapist every week. The third advantage is a sense of privacy. The client may feel more comfortable talking to someone who does not have any connections with their local area.
Dr. Kate Anthony, Co-Founder of Online Therapy Institute, is thrilled that a reasonably priced option is available to practitioners in the United Kingdom. "Mootu is aware of the ethical and legal terrain regarding practice internationally and for that reason, offers its services only within the UK. All their therapists are members of professional bodies and provide introductory videos, allowing the client to choose the counsellor that appeals to them."
Many mental health professionals have been waiting on a Directory that allows real choice for clients. Mootu is run by a practicing counsellor and member of the British Association for Counselling & Psychotherapy (BACP), John Witney.