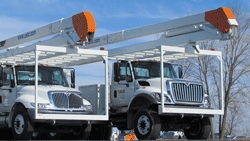 Waukesha, WI, May 16, 2012 --(
PR.com
)-- To meet customer demand, Utility Equipment Leasing Corporation (UELC), a leader in providing utility truck rentals and leases to electrical transmission and distribution markets across the nation, has added over 60 new trucks to the fleet thus far in 2012, with more to come.
For the third consecutive year, UELC is making a major investment in trucks available for the U.S. utility equipment rental market. During March, April, and May, the fleet was expanded by over 60 units, including RMX 75'-100' buckets, Commander 6000 diggers and Generals to meet the needs of transmission customers. The company also added 45' to 60' digger derricks; 29' to 40' bucket trucks; and other digger derricks and cable placers for the distribution market.
"UELC maintains the most modern fleet in the industry, providing the assurance of reliable equipment with the latest features to help customers tackle their jobs reliably," noted Judie Taylor, president and CEO. "Our customers need productive, safe equipment during the economic recovery, and we're investing in our fleet to assure we're here to meet their need for quality rentals and leases."
Renting for Increased Profitability
Renting from UELC is the key to better profitability and efficiency for organizations with variable workloads or periodic unique needs. Units are available on a daily, weekly, monthly, or long-term basis. Rental Purchase Programs are available, wherein companies gain equity in the equipment being rented. A purchase program provides customers with a variety of options after a pre-defined time period including:
- Applying a percentage of rental fees to purchase the unit
- Converting to a regular rental
- Rolling over to a lease
- Returning the unit
Service is available 24 hours a day and phones are answered by experienced team members who respond by the end of the day with solutions.
Now can be a great time to rent or lease equipment, or to expand your fleet without the upfront investment. For more information, request a copy of "Why Rent" at rent@uelc.com.
About UELC
Utility Equipment Leasing Corporation, founded in 1967, offers rental and leasing units ranging from bucket trucks and digger derricks to cable pullers and track vehicles. UELC is a strong business partner to contractors, utilities, municipalities and other industries across the nation. With headquarters in the Greater Milwaukee area, UELC's nationwide network of dealers and service centers are ready to fulfill any utility equipment needs. To learn more about UELC offerings, visit
www.uelc.com
or call 1-800-558-0999.