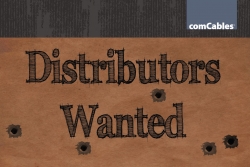 Denver, CO, May 16, 2012 --(
PR.com
)-- comCables, a Denver based manufacturer of structured cabling and low voltage connectivity systems, has opened their doors for national distribution. comCables had been primarily selling directly to contractors, but after tremendous success and an increase in demand, comCables is meeting this need. "Our contractors have been instrumental in working with us to develop a high-performance, reliable and easy to install product line. These same contractors are now asking for more availability of the product through new distribution channels," says Greg Greenwood, CEO/President.
Launching only 4 months ago, the comCables Distribution Team has already signed on six Stocking Distributors. So far comCables has expanded into Texas, Ohio, and the Mississippi River Valley, and are continuing to bring on additional Distributors. "We are gaining momentum quickly through demonstrating our value to these new channels," says Derek Davis, Regional Sales Manager. "We actually roll up our sleeves to deliver the Distributor onboarding experience over a week's time to ensure their team can demonstrate comCables value proposition to their customers."
Signing on Distributors in such a short amount of time speaks volumes about comCables market value, differentiation and onboarding process. comCables is a multi-front threat; guaranteeing product performance and quality assurance, committing a comCables account expert for the in-depth onboarding process and delivering a new market competitive advantage. The combination of these elements puts the Distributor in an enhanced position with their customers and prospects. After the onboarding process, Distributors are successfully selling comCables products from day one.
"Our Distribution Program offers high-performance products while offering significantly more profit potential," says Tom McAllister, National Accounts Manager, RITP.
If you are an Electrical, Industrial, Telecom or Datacom Distributor, and are interested in becoming a comCables Authorized Stocking Distributor, call 303-296-1000 or email info@comCables.com.
About comCables
comCables is a premier manufacturer of complete structured cabling solutions. Our Cat5E, Cat6/6A & Fiber Optic solutions are 3rd party tested for performance and reliability, and meet ETL and UL Certification requirements. comCables is BICSI and CCCA Corporate Members. Our knowledgeable team will help you find the structured cabling solution you need for any size project. At comCables, we're with you.