IonSense Presenting OpenSpot Mass Spectrometry™ at the American Society for Mass Spectrometry Annual Conference
OpenSpot™ Sample Cards Facilitate Simpler Analysis, Eliminating Most Consumables and Solvents, Reducing Costs and Lab Waste. Exhibited at ASMS 2012. Booth #57.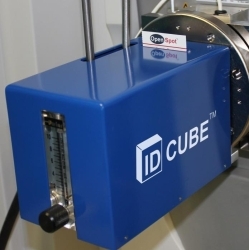 Saugus, MA, May 17, 2012 --(
PR.com
)-- IonSense, Inc. will be presenting the powerful OpenSpot Mass Spectrometry™ technology at the upcoming American Society for Mass Spectrometry Annual Conference in Vancouver, BC Canada May 21-24, 2012. The OpenSpot technology provides for rapid analysis of raw materials, formulations, reaction products, and unknown materials without sample preparation. The simple OpenSpot™ Sample Cards are used for sampling, transfer to the lab, and analysis. Designed for streamlined analysis, the use of OpenSpot Sample Cards eliminates the need to dissolve samples in solvents and transfer to and from sample containers, doing away with costly consumables associated with other open-access methods.
The featured products are the ID-CUBE® Source for rapid feedback on synthetic compounds and the DART®-OS Source for sampling solvents as well as other non-traditional samples such as leaves, textiles, plastics, or sample collection devices such as SPME fibers or swabs.
Sample preparation for the OpenSpot products involves deposition of 1 – 2 microliters of liquid or a few grains of solid directly on the screen of the OpenSpot Sample Card. The card-based sampling process eliminates the most common step in chemical analysis, the need to put the right amount of sample in the right kind of solvent to get the analysis to work. According to Brian Musselman, IonSense President and CEO, "With the increased complexity of our supply chains, the risk of poor quality materials entering our products and food supply are increasing. OpenSpot Mass Spectrometry has the ability to rapidly screen for these contaminants and fraudulent materials."
The OpenSpot Mass Spectrometry products will be exhibited in the IonSense booth 57 at the ASMS Annual Conference at the Vancouver Convention Center, Vancouver, BC Canada May 20-24.
The company will also host its annual DART Forum on Tuesday morning, May 22 at 7AM in the Vancouver Convention Center. Industry experts and academic leaders will present results from a diverse range of applications including pesticide screening, biofuels, and adulterated products. Registration and the agenda can be seen at dart-ms.eventbrite.com
Additionally at the Conference, over 30 presentations will demonstrate the application of DART mass spectrometry to problems in many areas such as:
Forensic toxicology analyses
Marker compounds in herbal medicines
Rapid screening for pesticides
Adulterated edible oils
Crude oil Analysis
Monitoring fermentation and manufacturing
Polymeric packaging contaminants
Reaction monitoring in the pharmaceutical industry
Glycosaminoglycans in medical device
Screening and identification of traditional Chinese medicinal herbs
About IonSense, Inc.
IonSense, Inc. (www.ionsense.com) is a Massachusetts-based company providing OpenSpot Mass Spectrometry™ solutions to the fields of food safety, forensics, drug development, and chemical analysis. They manufacture and develop direct analysis in real time (DART®) and atmospheric solids analysis probe (ASAP™) technology. The company provides sources and accessories for JEOL, ThermoFisher, Agilent, AB SCIEX, Bruker, Shimadzu, and Waters mass spectrometers. IonSense products including DART and ASAP technologies are distributed in Europe by KR Analytical Ltd, in China by ASPEC Technologies, in Japan by AMR Inc., in India by Orochem India, in Korea by Omics Biotech, in Canada by VBM Consulting Ltd., and in Israel by Mercury Scientific.
Contact
IonSense, Inc.
Brian Musselman
(781) 484-1043
www.ionsense.com

Contact