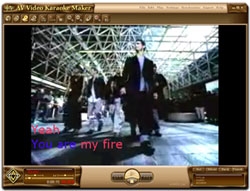 Ho Chi Minh, Vietnam, May 25, 2012 --(
PR.com
)-- For many years, karaoke has been an extremely popular form of entertainment; and Audio4fun is now trying to elevate this fun activity with its free AV
Video Karaoke Maker
, as well as its ample song library.
AV Video Karaoke Maker is a free karaoke creator that enables users to add music and lyrics to a video and synchronize them to quickly create a karaoke video. In order to work most efficiently with the product, users need three things: the non-vocal songs, the lyrics, and videos. All kinds of videos (short, long, Internet clip, movie, etc.) are usable, as this karaoke maker can help with timing and editing; but if they can't find songs and lyrics themselves, the
non-vocal library
is always there to help.
This library is a large collection of non-vocal songs with lyrics that are updated weekly and available at Audio4fun's fellow website, Make4fun.com, where visitors will also find many more collections of all kinds (videos, movies, ringtones, flashes, etc.) inspired by all of the AV software products. Up to now, the library has stored 565 songs and sets of lyrics, including the up-to-date ones and the easiest-to-sing ones. As it is with the aforementioned AV Karaoke Maker, all collections are always free for all visitors.
From its launch, AV Video Karaoke Maker has been highly popular and received many positive comments from users. For example, one said, "The program just suits my every need for karaoke making now." Another said, "Thanks to this karaoke maker, I now can have good video for karaoke." Its number of downloads is growing and the need for non-vocal songs is increasing. That's why Audio4fun has decided to focus on developing its freeware product and its on-the-house library.
The useful tools for every karaokaholic - AV Video Karaoke Maker - as well as the non-vocal library for all karaoke composers are always available and free at Audio4fun.com and its fellow website, Make4fun.com. They are the helpful friends for both amateur singers and professionals-to-be.