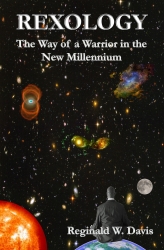 Birmingham, AL, June 12, 2007 --(
PR.com
)-- Reginald W. Davis shares his search for truth, knowledge, and understanding with the publication of "REXOLOGY: The Way of a Warrior in the New Millennium" in conjunction with the online content marketplace Lulu (www.lulu.com), the world's fastest-growing provider of print-on-demand books.
"REXOLOGY: The Way of a Warrior in the New Millennium" (ISBN: 978-0-6151-4566-2) is a book of esoteric knowledge. By definition, this is knowledge of the few. However, for those who can hear and understand it may unlock their full potential. It will help you to develop, or become more aware of your beliefs and convictions. In addition, it will help you to see who and what you truly are.
"Reginald Davis provides us with his results of a 20 year study on one persons search for truth, knowledge and understanding. He shares his opinions and the opinions of many including Carl Jung, Plato, The Bible and more to express his ideas on values and beliefs. Interesting read that will open your mind to other views on how people believe in themselves and how they live." Michelle Dunn "Author, Consultant"
Link to Publication: http://www.RexologyPress.com
Author:
Reginald W. Davis is a "Certified Biomedical Engineering Technician." He is responsible for the comprehensive technical support of highly sophisticated scientific apparatus. Reginald grew up in a Christian environment, went to church, and believed in Jesus Christ from an early age. Around the age of fifteen, he met a man who introduced him to the concept of esoteric knowledge. This type of knowledge gave him a unique perspective. While in the military, he studied yoga and the martial arts. After the military, he took classes in psychology and philosophy. At this point, he started collecting his notes, which lead to the formulation of his book, "REXOLOGY: The Way of a Warrior in the New Millennium."
###
Media Contact:
Reginald W. Davis, 205-323-3082
Reginald.Davis@RexologyPress.com
Rexology Press
PO BOX 550343
Birmingham, Al. 35255