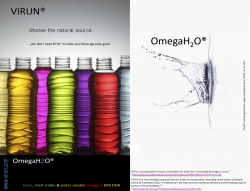 Walnut, CA, June 04, 2012 --(
PR.com
)-- VIRUN Headquarters, Walnut, CA U.S.A. has developed novel, patented technologies that encapsulate nonpolar compounds that dissolve clearer, shelf stable and safe. Virun's OmegaH2O® products are the premier and only patented technologies that deliver clear, shelf stable Omega-3 DHA and EPA DHA into shelf stable beverages that are marketed and sold word-wide. Other novel product concentrates utilize the now patented technology to encapsulate CoQ10 into water soluble, safe and shelf stable applications. The patent approval and Notice of Allowance was accepted expeditiously which can only be the result of the strength of the claims and proof of novelty and inventiveness. The product concentrates are formulated, produced and marketed under a proprietary brand. Their proprietor focuses on integrity combined with their mission to serve the premiere ingredient category which creates a suitable aggregate for success. Other marketing avenues include our collaboration with WEDAR in Taiwan and Repinsa in Mexico, Guatemala, El Salvador, Caribbean, Puerto Rico and Mexico.
Advantages
Beverage producers can now fortify clear and shelf stable functional beverages with ingredients that can maintain supportive health claims, such as heart healthy or other health promoting claim. 12/383,244 also allows ingredients to be added above and beyond recommend intake source claims such as excellent source, high or rich-in. Consumers benefit because they now have access to a wide variety of options that, in of itself or accumulatively, can contribute a more healthy diet which includes novel nutrients such as Omega-3, CoQ10, resveratrol or Vitamin E, as examples.
Philip Bromley, CEO of VIRUN stated, "It's time for VIRUN to now flourish; 12/383,244 was a crucial means to begin executing Genuine OmegaH2O® in full-force. Expect 2012 to set a new precedence in actualizing new functional-beverage applications containing Omega-3 DHA and EPA DHA."
Nickols Huang, President at VIRUN stated, "VIRUN is currently engaged in licensing, investment opportunities and strategic partnering in order to expand operations. 12/383,244 gives us the ability to establish our business as a leader in nonpolar functional-beverage ingredients business and solidify pending status with authenticity."
Craig Wang, Chief Operating Officer at VIRUN stated, "2/383,244 was pertinent in continuing our business model to fortify novel beverages with nonpolar compounds and clear, shelf stable Omega-3 DHA and EPA DHA. The new beverage applications pending launch this year will astound and set a new standard in the fortified beverage category."
The Patented Technology
VIRUN encapsulates nonpolar compounds in a concentrate form that dissolve clear and are shelf stable. OmegaH2O® is a water soluble and clear concentrate that encapsulates Omega-3 DHA and EPA DHA that is used primarily in beverages. The concentrate allows the finished beverage manufacturer to add small amounts of a concentrate much like a flavor additive. This allows for a less expensive means of incorporating Omega-3's added directly and also reduces the need for further processing.
Safety and Regulatory
VIRUN has studied the safety and pharmacokinetics and well as dynamics of its concentrates and its technology is not only safe, but in fact, the solubilizing agent does not significantly absorb into the body systemically, unlike detergents or other more intrusive chemicals. By delivering the nonpolar constituent yet not absorbing the excipient solubilizier, VIRUN has developed safe and effective means to deliver healthy ingredients. The benefits of the bioavailability was reported and included in the European Food Safety Authority (EFSA) report. EFSA further notes that the No Observed Adverse Effect Limit was 1000mg per kg of body weight. The National Cancer Institute confirmed that there were no safety concerns via oral dosage at the highest levels tested.
Applications
VIRUN currently supports over 30 products internationally. Their partners have released successful products in Taiwan and China through their collaboration with WEDAR Biotechnology, China, U.S. and products released in Mexico, Guatemala and El Salvador through their partners Repinsa and Europe and Canada. VIRUN maintains their concentrates through applications with their partners proprietary – VIRUN focuses on technology to support application and not the finished application itself; this helps separate the "brand" from the support of the ingredient.
Pipeline
Expect to be astonished, new applications and new patents will begin to surface as VIRUN engages operation Genuine OmegaH2O®. This effort will revolutionize the beverage industry and fulfill a much anticipated need to accelerate shelf stable functional-beverage options to consumers. Real water, real health and real claims – expect the unexpected.
About VIRUN
VIRUN is a biotechnology company focusing on the delivery of naïve compounds and peptides that are shelf stable, clearer, effective and safe. VIRUN has developed several patented and patents pending technologies that incorporate nonpolar compounds like Omega-3 and CoQ10 into foods and beverages that are clearer, shelf stable and safe. Dozens of foods and beverage applications have been developed and sold internationally under respected and well-known brands. These ingredients include, Omega-3, beta carotene (color additive), Turmeric (color additive), Resveratrol, Vitamin D, CoQ10, lycopene, Lutein, Omega-6 CLA, Omega-6 GLA, Sesamin and other nonpolar compounds with novel functional health claims. VIRUN has developed several drug technologies that deliver compounds and peptides with improved pharmacokinetics and dynamics; MAPT-Insulin has achieved greater than 61% oral bioavailability. Currently MAPT has several drugs being developed that are proprietary and under contract with pharmaceutical companies world-wide.