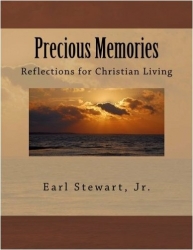 Nashville, TN, June 06, 2012 --(
PR.com
)-- Earl Stewart spends most of his days helping and healing others. Now, he sets out to help others in another way. The 25-year-old medical student at Meharry Medical College in Nashville, Tennessee, announced earlier this week the publication of his first book, "Precious Memories: Reflections for Christian Living." The book is a collection of some 67 individual pieces of poetry and prose with accompanying background inspirations that is intended to be a means by which to exhort the fellow or prospective Christian individual as he or she also strives to live as a Christian should in today's world.
"Writing poetry really is one of the major ways I'm able to use that other side of my brain," Earl states. "I'm just so pleased to be able to share what I write with my fellow pilgrims through this life."
The book is currently for sale on Amazon and at other bookstores around the country and will soon be available internationally in other places like Europe.
When asked what he intends to do with this new publication, Earl says, "Well, I hope to encourage other Christians by letting them know this life we choose to live is a good one and is worth it. We have good days and we have bad days, but, at the end of each day, the good always outweigh the bad. That's what I've learned and hope to share."
"Precious Memories" is one of several books that Earl, a native of Augusta, Georgia, hopes to publish in the future as he continues to write and share his memories of his faith. More information about Earl Stewart and this fascinating new title can be found on his Author Page on Amazon and on the title page with the publisher, CreateSpace.