Global Communities Weaving the Soul Into New Bag Brand ETHNOTEK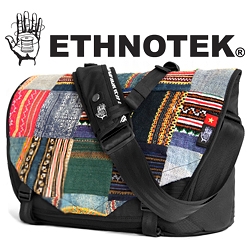 Savage, MN, June 06, 2012 --(
PR.com
)-- Born from the idea to combine high tech design, intricate handmade textiles and ethical relationships with a growing tribe of international artisans – ETHNOTEK has become the source for functional bags with soul.
The Bag
Take one look at an ETHNOTEK bag and you'll be captivated by the removable and intricately hand crafted textile on the front. Take one look inside an ETHNOTEK bag and you'll be surprised to see even more hand-made fabric lining the interior. Co-founder and designer, Jake Orak, spent years developing these high quality backpacks and messenger bags, made from nearly bomb-proof ballistic nylon and perfectly scaled for air travel. They come complete with a heavy duty padded laptop compartment, a trap door on the side to access the bottom of the bag without opening the top, and a surprising amount of pockets that can all be accessed without taking the bag off – making them perfect for the urban commuter, traveler or tech-savvy individual who wants to invite conversation from passers-by.
The Breath of Life
The soul of each bag comes in the form of a removable and interchangeable front-panel called a THREAD. What makes these textiles limited editions are that each THREAD has been hand woven, printed or embroidered and are only available in small amounts that the artisans themselves allow. Each one is backed by heavy-duty water-resistant nylon to protect these traditionally made art pieces.
"I consider myself extremely fortunate to travel the world and meet such kind and hospitable artisans who are eager to work with ETHNOTEK in hopes of preserving their traditional forms of weaving, printing and embroidery. Its thanks to them that we are able create a product like no other," says ETHNOTEK Co-Founder and Designer Jake Orak.
"These are people who inspire us, and who we build solid trust with over time. As a Designer, it's incredibly satisfying to create a quality product that also serves as a vehicle to share, celebrate and sustain global culture and awareness," says Orak.
About ETHNOTEK
Minnesota Founders, Jake Orak and Josh Linde, launched their social enterprise ETHNOTEK on July 1, 2011. Jake and Josh have been working hard to keep up with demand as quick success has led to their unique products being picked up by established retailers Urban Outfitters and REI, along with numerous global boutique retailers. ETHNOTEK is currently working with communities in Guatemala, Ghana, India, Indonesia and Vietnam, with more to come. For more information about ETHNOTEK visit
www.ethnotekbags.com
For additional information or interview requests, please contact:
Jake Orak I Co-Founder + Head Designer
P: 626-379-8510
info@EthnotekBags.com
Contact
ETHNOTEK
Jake Orak
626-379-8510
www.ethnotekbags.com

Contact