The Top Seven Myths About Vacationing at Nudist Resorts
Vacationing at nudist resorts is the fastest growing segment of the travel industry. It is a booming niche market with over $400 million in annual revenues. A recent Roper poll showed 25% of American adults have gone skinny dipping. Maybe it is time you should too. Make your next vacation a fun one, go as bare as you dare.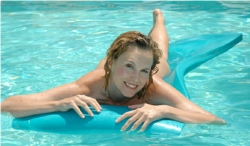 Palm Springs, CA, June 13, 2007 --(
PR.com
)-- Those high walls and locked gates seem just so imposing. Everyone knows there are nudist colonies in America. Yet, everyone also wants to know, "what really happens inside the walls of a modern nudist resort?"
Tom and Mary Clare Mulhall, the owners of The Terra Cotta Inn Clothing Optional Resort and Spa
http://sunnyfun.com
located in sunny Palm Springs, California share some of the secrets and myths about nude resorts.
Just this March, their beautiful boutique hotel was reported by AOL.com to be one of the top 10 "world's best clothing optional resorts."
More importantly, The Terra Cotta Inn is considered the most mainstream nudist resort in America and perfect for couples trying nude sunbathing for the first time.
Once you learn about the top 7 myths about vacationing at nudist resorts, you will want to pack the sunscreen, some good books or magazines, your iPod, sunglasses, and if you have kids at home, pack them off with the grandparents. Because it will be time to experience your most fun, romantic, relaxing vacation ever.
Myth #1 All nudist resorts are the same
As experienced naturists know, all clothing optional resorts are unique and different. They have their own personality and character. Most cater to families and their kids. Many are charmingly rustic campgrounds and parks. Nicer ones that appeal to first timers like Terra Cotta are not for kids. That way you can have a nice relaxing, pampering, romantic vacation. It is very important for your first nude sunbathing experience to find the nudist resort that is right for you. If you go to the wrong place, you will probably never try nude recreation again.
Myth #2 You will have to play volleyball all day long
Yes, volleyball is the national pastime of many nudist clubs, parks, beaches and campgrounds. However, most of the more modern nudist resorts don't even own a volleyball net. And if you go to a nudist campground or beach for your first experience, don't worry, no one will force you to play.
Myth #3 You have to be a "card carrying" nudist to visit a clothing optional resort
Yes, it is true that many of the older nudist parks and clubs in America still want their customers to buy an annual membership just like you buy an annual gym membership. But, many parks allow you to visit before joining. And nudist resorts like The Terra Cotta Inn in Palm Springs have never required any of their guests to buy membership.
Myth #4 Everyone laughs at you if you have tan lines
This couldn't be further from the truth. You will see many experienced nudists have tan lines because many times they take a 1 week vacation with their kids and swimsuits and then go to a nice nudist resort for their 1 week relaxing vacation without the kids and swimsuits. Also some first timers like to try European sunbathing (also called topless sunbathing) first. That is ok at some of the nicer hotels like The Terra Cotta Inn. You must enquire first before booking your vacation. Finally, you find not all nudists like laying in the sun all day long. So there is normally lots of shade at the nicer places.
Myth #5 All nudists are aging hippies
While some nudist parks are having a hard time convincing younger couples to buy annual memberships, that is not true of all nudist venues. For instance, a recent survey published in the 2007 National Leisure Travel Monitor showed 16% of adults born in 1979 or later consider vacationing where there is access to nude or topless sunbathing desirable or very desirable.
Myth #6 Nudists have orgies
Not true. Most guests at nudist resorts are married or in long term committed relationships. There is much less sexual tension at a clothing optional resort, than there is at a regular hotel where everyone is wearing a bathing suit. Nudist resorts make you feel comfortable with your naked body and build self esteem.
Myth #7 You need to lose weight before vacationing at a nudist resort
This is the biggest myth of all. Many people think nudists are all models and body builders. Where in reality, they are regular normal people. They are tall and short. They are thin and not thin. They are all ages from 20's to 70's. They are all professions. And they are democrats, republicans, and nonvoters. Everyone vacations at nudist resorts, and so should you.
So make this the year for you to have a great vacation. Find out for yourselves all the fun that goes on behind those mysterious, high walls.
If you want to say goodbye to your tanlines forever, give the Terra Cotta Inn in Palm Springs, California a call at 1-800-786-6938.
###
Contact
The Terra Cotta Inn Clothing Optional Resort and Spa
Tom Mulhall
1-800-786-6938
http://sunnyfun.com

Contact