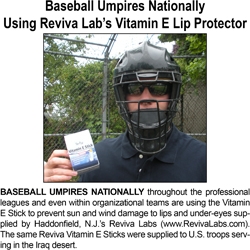 Haddonfield, NJ, June 29, 2012 --(
PR.com
)-- Baseball umpires throughout the U.S., as part of their medical injury prevention programs, have received Reviva Lab's Vitamin E Sticks to help prevent sun and wind damage to their lips and under-eyes areas.
The same Reviva Vitamin E Sticks were supplied gratis to U.S. Troops serving in desert areas, such as Iraq.
The Vitamin E Sticks were routed to baseball umpires through the Medical Coordinator of the Professional Baseball Umpire Corp.
In an acknowledgement to Steve Strassler, president and founder of Reviva Lab's Haddonfield, N.J. (www.RevivaLabs.com), Mark Stubblefield, MS, ATC Medical Coordinator PBUC, said:
"…injury prevention is my number one goal, not only the immediate injury, but preventing them, such as from cancer, after they (umpires) leave the field."
Stubblefield cares for 220 umpires in the Minor Leagues, on a daily basis.
There are 68 umpires in the Major Leagues.
Strassler pointed out that "where standard sunscreen creams can creep into the eyes and cause tearing or irritation, Reviva's E-Sticks, with sunscreen, stay put and moisturize while fighting Sun Damage. Lips, particularly the lower lip, are also very vulnerable to sun damage; drying, cracking or worse."
Note to Editor: A sample can be mailed to the Editor directly from Reviva Labs. Please let us know if there is a special name and address to whom an additional sample can be sent. Contact: Elena Cruz, American News Services, at 29 Bala Ave., Ste. 114, Bala Cynwyd, PA 19004; Tel.: 484-562-0060; E-Mail: adcomtimes@aol.com.