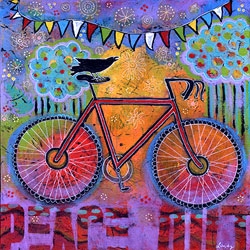 Prescott, AZ, June 29, 2012 --(
PR.com
)-- As a means of thanking her art collectors and gathering new ones, Arizona artist Lindy Gaskill, has created an exclusive VIP Art Collectors Program on her website.
To be granted membership, a person will have purchased an original painting by Lindy that is priced at $200 or more.
Lindy's collectors will be granted first-hand access with a special password in the VIP log-in area of her website.
Some of the benefits of VIP Membership will include a free 8" x 10" archival giclée print of another piece by Lindy. For her past collectors, this will be with a new purchase from here on in.
Lindy will introduce her newest work to the VIP Circle first, so they always have first access to purchase her most recent paintings. They will receive a special invitation to events with an opportunity to see the work before the general public.
There will be other exclusive goodies once a Member logs in to the VIP Collectors Circle page.
The VIP Program is also tied to Lindy's monthly art newsletter. Every time she changes out the VIP page, Lindy will announce it to her mailing list.
About Lindy Gaskill
Lindy Gaskill began her art career in 1981 as a production artist, working for advertising agencies while pursuing her fine art career. In 2008, she became a full-time fine artist focusing on her playful, colorful acrylic paintings. She has shown her work in Washington, New York, Oregon and Arizona. Lindy has a home and studio in Prescott, Arizona where she pursues her love of art and the creative process.