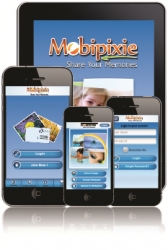 Santa Clara, CA, July 05, 2012 --(
PR.com
)-- MobiPixie team today announced the official launch of its MobiPixie platform and mobile applications. Mobipixie is an advanced photo media sharing & social networking platform for mobile phone users. Mobipixie provides a unique platform for sharing life's memories captured as photos with people that a user loves & cares, with full privacy control. The application is currently available on Android. iPhone, Blackberry and J2ME applications are to be released shortly.
The Mobipixie platform can be accessed at http://www.mobipixie.com. The MobiPixie Android application can be downloaded from Google play android market place (http://www.mobipixie.com/users/download). iPhone application is expected to be available in about a week's time.
The service has been primarily designed for mobile users and differs from existing photo uploading sites in many ways. Instead of being a general photo archiving site, it integrates photo editing features, with advanced privacy and group level controls and a calendar feature. A user has choice to define unlimited groups and manage his or her folders. The main purpose is to give an average mobile user ability to upload photos and play with them using extensive on-line integrated tools. Photos can be converted into printed or electronic cards using online design tools on the site. Some of the main features of the applications are defined below.
Sharing, Archiving & Editing
According to the company spokesperson, a user can upload, edit, transform, share, distribute, archive, group, edit, enhance, print, play & do many more things with his photos. A user can keep his photos private, or make them public for all to see. He can tag them, title them & categorize them in any way he likes making easy to search & browse by categories. So, no time is wasted in finding what a user wants.
Transforming Photos Into Custom Designed Cards
In addition to comprehensive on-line social media sharing features, MobiPixie offers a unique service that lets a consumer use photos on his or her cell phone or use photos from MobiPixie Public Galleries & then send high-quality, custom, personalized color MobiPixie cards from his or her very own mobile phone. No more trips or queuing up at the post office to buy stamps. A user can send a custom card electronically too, if he or she chooses so.
Advanced Customization Support
MobiPixie enables users to take a picture, modify it using MobiPixie's built in customization tools, compose an associated message for the receiver, & send it to as many postal or email recipients as a user likes. Full online history of the cards along with receivers' name, address & card status is maintained in the system. The design tool is simple to use and has been created with a lay person in mind.
Commenting on the development, James Martin, VP of Biz Development said, "Mobile phones are defining our life styles like nothing else before. MobiPixie is a nice platform for those who are interested in sharing photos within a private group instead of posting on open systems like Facebook or twitter. You are allowed to post photos on public galleries too."
About MobiPixie
MobiPixie (http://www.mobipixie.com) is a privately held company with primary interest in all things related to Mobile Media. MobiPixie has been developed by a team of dedicated young mobile applications designers, developers and architects along with operational staff scattered at several locations in the USA.