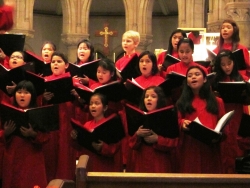 Honolulu, HI, July 10, 2012 --(
PR.com
)-- The Hawai'i Sacred Choir, the only choir in Hawaii that is affiliated with the prestigious international Royal School of Church Music (RSCM), based in England, is now holding summer auditions for the 2012-2013 season. The choir is looking for trebles (children ages 8-14) and alto/tenor/bass singers (high school/college/adult). Everyone who can sing even the simplest song in tune is encouraged to audition. Complete training in the Royal School of Church Music (RSCM) tradition is provided, including international standards for curricula and choir medals with ribbons. In addition, every choir section has a well-trained leader.
It has also been conclusively proven in a 2010 University of London study that singing, reading music, and playing instruments improves overall learning skills, builds life skills, and underpins better behavior. Author Sue Hallam states, "Research has shown that there are benefits of active engagement with music which go beyond the development of musical knowledge and skills and the enjoyment and appreciation of music. Making music can support the development of literacy, numeracy and listening skills."
Open-audition appointments may be set at any time during this summer by calling 220-6969. Two major audition days have been set, but the choirmaster will be continuing to audition every week through August. Singers are encouraged to try to come on these two main days, if possible:
Saturday, July 14 at St. Andrew's Cathedral choir room (Queen Emma Square)
Saturday, August 18 at St. Andrew's Cathedral choir room (Queen Emma Square)
Auditions are easy and very relaxed. At the audition, singers will be asked:
• Demonstrate breath control
• Match various musical notes played on the piano
• Sing the highest and lowest notes possible with their voice
• With instruction, create an "open" and vibrato-less tone
• Sing a song of choice or a simple one offered
Minor-aged children must be accompanied by a parent or guardian during the 20-minute audition. All rehearsals will be led and supervised by child safety-certified adults.
The rehearsal Schedule has been set, beginning in September. Beginning and Advanced Trebles will meet on Tuesdays & Thursdays, 3-5 pm, at St. Andrew's Cathedral (Davies Hall and the choir room). ATBs (altos/tenors/basses) will meet on Wednesdays, 6:45-8:45 p.m., at Epiphany Episcopal Church, Kaimuki (10th & Harding).
This rehearsal schedule makes it possible for most people to sing with the choir and still sing with their own church choirs or other choirs.
For more information and to set an audtion, contact the Reverend Dan Werning, MCM, MAR, Choirmaster, at 808-220-6969 or e-mail choirmaster@hawaiisacredchoir.org. Web address is www.hawaiisacredchoir.org