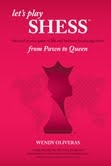 Jersey City, NJ, July 11, 2012 --(
PR.com
)--
Let's Play SHESS
encourages women of all ages and backgrounds to learn to play a fun game of chess and to transfer the acquired chess-playing skills into their real life plan and business development. Author Wendy Oliveras, a member of the United States Chess Federation (USCF), and Founder and CEO of Oliveras & Company, Inc., a legal search firm, wrote Let's Play SHESS after her legal recruitment business was hit hard during the economic downturn in 2008; it was her chess skills that got her through those tough times. As a result of writing Let's Play SHESS, Oliveras created SHESS Global Alliance, LLC.
Author Wendy Oliveras, 49, is a resident of Jersey City and first learned to play chess when her dad taught her at age 14. She took her chess-playing skills and transferred them into all aspects of her life, including her educational and professional endeavors. Oliveras holds a Master's degree with honors from The New School in New York City and is the President of the New Jersey Association of Women Business Owners (NJAWBO), Hudson County Chapter. Oliveras enjoys mentoring girls to believe in themselves; motivating women to start and manage their businesses; and inspiring them all to learn to play chess. Let's Play SHESS teaches women to become SHESS players on their own battlefields, find the warrior inside themselves, make positive changes in their lives, set goals, and find the courage to face each day with confidence and strength.
Let's Play SHESS links the inherent lessons learned by playing chess and building successful strategies while transferring those chess-playing skills into all aspects of life. These skills include analyzing and solving problems with more logical clarity; strategic planning; pattern recognition; facing your fears; having confidence to make sound decisions; believing in yourself and achieving all of your personal and entrepreneurial aspirations.
Here is an excerpt from Chapter 9 "Playing SHESS on Your Battlefield"
"When you are faced with adversity what do you do? Depending on the type of SHESS player you are will determine how you think, react to the problem at hand, and execute your game plan. Success at something does not come easy because nothing is easy. Everyone has different battles to fight. You need to know what battles you want to fight and what you bring to your battles. If you lack something or need more training then you need to step up your game."
Ruth I. Haring, President of the United States Chess Federation supports the SHESS global movement and provides the book's Foreword. Haring is a Life Member of the United States Chess Federation (USCF); an International Woman Master, 1975; and member of the Executive Board of the USCF. Haring was a frequent participant in the US Woman's Championships in the 1970′s and 80′s and is a five-time US Olympic Chess Champion team member, winning the Bronze on Board 4 in 1976 and representing the USA in the 1976 Women's Interzonal and various other international events. Haring also serves on the CalChess (Northern California Chess Association) Board of Directors and she was appointed in 2009 as the Head of the US Delegation to FIDE (the leading World Chess Federation organization).
Haring says "A girl who is a chess player will also most likely share her opinion in classes without being shy or embarrassed and make decisions without deferring to others. In business these skills we have discussed are also critical skills for being successful." Haring also says "Let's play SHESS will inspire and motivate girls and women worldwide to transfer the chess-playing skills into their everyday activities and business development."
Let's Play SHESS is now available and can be ordered directly from the publisher at www.AuthorHouse.com, www.Amazon.com, and www.b&n.com.
ISBN: 978-1-4772-1680-4 (sc)
ISBN: 978-1-4772-1681-1 (hc)
ISBN: 978-1-4772-1682-8 (e)
Wendy Oliveras is available for appearances and interviews. She can be reached at (201) 344-1099 or info@playshess.com.