Scottish Jewelry Designer Honoured
One of the most inspirational Scottish jewellery designers has been awarded an honorary degree after 60 years in the business.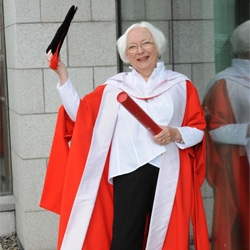 Kirkwall, United Kingdom, July 18, 2012 --(
PR.com
)-- Orcadian Jeweller Honoured by RGU
Ola Tait, professionally known as Ola Gorie, received an Honorary Doctor of Design (Hon DDes) on Friday 13th July at 10.30am from Robert Gordon University.
Ola attended Gray's School of Art and in 1959 left as the first graduate of its jewellery department. After leaving college Ola worked in a jewellery workshop in Backwynd, Aberdeen; she also taught art classes so that she could continue buying tools to make jewellery. Two years after leaving college Ola married her husband and business partner, James Arnold Tait, known as 'Arnie'. Opportunities for work took Ola and her husband to Canada where they stayed for seven years and raised their three children. Whilst overseas Ola's designs continued to be made and sold, and her work remained in the public eye in the UK.
Returning in 1969, Ola and Arnie ploughed their money earned in Canada into buying their jewellery shop and manufacturing business in Kirkwall. Her early designs drew heavily on Orkney's heritage. Her jewellery found acceptance both locally and, by the end of the 1970s, found favour across the country. Appreciation of it grew as part of the wider craft movement in Britain in general, and the Scottish Highlands in particular. Jewellery collections were completed for 'Historic Collections / Past Times', for Liberty's of London 100th Anniversary and various collections were produced for the British Museum Shop and House of Commons. Commissions for one-off pieces were also accepted for the Queen Mother.
By the time of her retirement from business in 1997 the company employed as many as 55 staff and her jewellery was exported around the world. The business is now run on a smaller scale by Ola's daughter, textile designer Ingrid Tait, and operates out of the same premises the family business has occupied since 1969.
In 1999 Ola was awarded an MBE in recognition of her services to the jewellery industry. In November 2010, the Orkney Museum launched a retrospective exhibition, 'Celebrating 50 Years of Ola Gorie.' It ran to the end of January 2011 and confirms her importance in contemporary Orcadian culture.
Libby Curtis, Associate Head of Gray's School of Art said, "Ola Gorie is one of Britain's most important jewellery designers of recent times. Her designs have continued to break new ground and influence a generation of designers. It is entirely appropriate that Robert Gordon University should honour Ola as one of the key figures in the modern arts and craft movement in Scotland."
Issued on behalf of Robert Gordon University by:
Jonathan Shackleton
Head of Communications
Tel: 01224 262031
Mobile: 07970 622229
E-mail: j.shackleton@rgu.ac.uk
Contact
Ola Gorie Jewellery
Duncan McLean
+44 1856 873251
www.olagoriejewellery.com

Contact