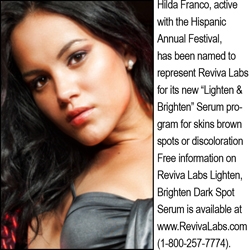 Haddonfield, NJ, July 23, 2012 --(
PR.com
)-- For over 25 years, skin-care specialists, Reviva Labs, Haddonfield, N.J has been producing successful skin-lightening programs for skin's brown spots, discoloration or uneven skin tone, especially for people of color.
Now, Reviva is launching their new "Lighten & Brighten" Serum that is reported to speed up for Hispanic individuals the lightening of skin's dark spots on face and hands and also brighten skin tone and improve texture.
Reviva's new "Dark Spot Serum" is a silky, light gel that can be used alone but when used under Reviva's popular Brown Spot Night or Day Creams provides even more effective results.
Light-skin or darker-skin Hispanic women and men each have an elevated level of the skin pigment "melanin."
When melanin is overactive in Latin/Hispanic skin, it can cause dark spots or "hyperpigmentation."
Excessive sun exposure and skin injuries or irritation are common causes of "overactive melanin."
Reviva's tried-and-true "Brown Spot Night Cream" and "Skin Lightener Day Cream" are important parts of Reviva's proven effective skin-lightening program. Their objective is to suppress the skin cells production of melanin.
And now, Reviva's new Serum brings quicker lightening, brightening results and helps beautify the complexion.
Another vital step recommended by Reviva is Exfoliation.
It is common for skin to accumulate dead skin cells on skin's outer layer. When dead, dry cells are not removed, they can block the absorption of even the finest lightening products and hinder their effectiveness.
Reviva Labs offers two natural Exfoliants that contribute to the success of their Lightening program. There is the original one-of-a-kind natural "Light Skin Peel" Exfoliant and new, easier to remove Pomegranate Lactic Acid Exfoliant. Both are suggested for once or twice a week usage.
Reviva Labs also recommends cleansing skin with their Lighten & Brighten Facial Cleanser that also helps lighten discoloration as it deep cleanses.
For Latin or Hispanic women, and men, Reviva Lab's 39 years of skin-care experience can be the answer for a more uniform, brighter, younger-looking complexion.
Reviva Labs products are available in leading Health Food Stores nationally, ULTA Cosmetic Stores and via their website: www.RevivaLabs.com.
Note to Editor: A sample can be mailed to the Editor directly from Reviva Labs. Please let us know if there is a special name and address to whom an additional sample can be sent. Contact: Elena Cruz, American News Services, at 29 Bala Ave., Ste. 114, Bala Cynwyd, PA 19004; Tel.: 484-562-0060; E-Mail: adcomtimes@aol.com.