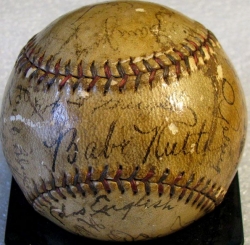 Franklin Lakes, NJ, July 23, 2012 --(
PR.com
)-- An online sports memorabilia auction is raising money for charities. There are over 25 charities/organizations that Hope for Charities is raising money for including: Hanks YANKS, Emmanuel Cancer Foundation, David Cone Foundation, Don Larsen foundation, Gridiron Heroes Spinal Cord Injury Foundation, The Fergie Jenkins Foundation, Knights of Columbus and many others.
Some of the items being auctioned off are: Babe Ruth/Lou Gehrig signed ball, Perfect Game signed ball with 17 perfect game pitchers including Sandy Koufax, Muhammad Ali signed boxing gloves, Derek Jeter signed rookie baseball card, Michael Jordan signed basketball, Mickey Mantle / Duke Snider / Willie Mays signed photo, Joe DiMaggio signed ball, Alex Rodriguez signed jersey, 1936 Olympic program, Super Bowl package, Final 4 package, Kentucky Derby package, Masters Golf package, fighter pilot for a day, wine tasting in Napa Valley and much more. Over 500 lots to choose from and many lots start at only $1.
About Hope for Charities
Hope for Charities serves more than 1000 non-profits, providing autographed memorabilia and once-in-a-lifetime experiences to support their charitable fundraising efforts. Whether an organization or person is raising money for a non-profit, a school, synagogue, fire department, organization, church, family member, etc., Hope for Charities is available to partner with them, answer all their questions and strategize with them to ensure their next fundraising event is a success.