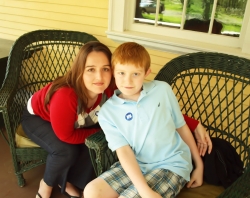 Hartford, CT, July 29, 2012 --(
PR.com
)-- Parenting, some say, is a learning process. The parent and the child both learn as they go along.
Understanding that and understanding no parent is or can be perfect is the driving force behind a website and blog written by Tracy Gibb, herself a parent. The site is Less Than Perfect Parents.
Ms. Gibb is a mom and a former preschool teacher who used to run herself ragged trying to be the "perfect mother." She finally realized that she had to let go of that image in order to be the best mom she could for her child. That's when she relaxed and began to really enjoy being a mom. She has learned so many little tricks in her home and classroom that she used to keep things under control and keep everyone busy and happy.
"I have made plenty of mistakes," she said. "I have also learned from those mistakes. I'm sharing with readers so they can benefit from my experience."
The website offers more than just parenting mistakes and how to avoid them. It discusses crafts, health, recipes, fashion and development.
Ms. Gibb notes that every child is different, but they all have the same basic needs in life. "Good parents meet those basic needs - love, affection, food, spending time with their children. But they also have a lot of questions. What's really necessary and what's not when it comes to a child's wants and demands," she said. "Together, we'll walk through these challenges and hopefully become better parents and raise better children."
For more information visit www.lessthanperfectparents.com. Ms. Gibb can also be found on Facebook and Twitter.
For more information contact
Tracy Gibb
tracygibb@lessthanperfectparents.com
Less Than Perfect Parents