Rock and Roll Academy Aspen, Offers a Music Program That Doesn't Teach Notes?
The Rock and Roll Academy, now in its third year in Aspen, takes a different approach to music instruction. Students form bands, choose their own music, and work collaboratively, emphasizing the social emotional aspects of learning.
Aspen, CO, August 30, 2012 --(
PR.com
)-- Self-awareness, self-management, social awareness, relationship skills, and responsible decision-making characterize social emotional learning in the RRA.
With no written music in the curriculum, students learn through listening and collaboration. Learning music becomes intrinsically social in nature. This social aspect may explain the popularity of the program.
At a time when the dropout rate for music programs is on the rise, RRA kids continue to find success, commonly learning to play two or three instruments in the play-based atmosphere of the RRA. Ask any RRA kid how they learned to play so many instruments. "I don't know," they'll answer, "I just played."
The Rock and Roll Academy: social, play-based, and student-driven… developing creativity, independence, and leadership.
*Registration is now open for RRA Fall 2012 Session
*Fall Session runs September 10th – December 7th
*3rd Annual Winter Concert, Friday December 7th, Wheeler Opera House
*No classes Thanksgiving week
*Custom bands of 4-6 students created by age groups 8-18
*Bands meet once per week for 90 minutes
*No experience is necessary for a kid to have success in RRA
*Tuition is $745 for the Fall Session
Contact Russell at 970.925.9001 or Russell@rockandrollacademy.com to register your child. Enrollment is limited to the first 50 students.
Seek Mystery, Not Answers!
Contact
Rock and Roll Academy Aspen
Russell Cattaneo
970-925-9001
rockandrollacademy.com

Contact
Multimedia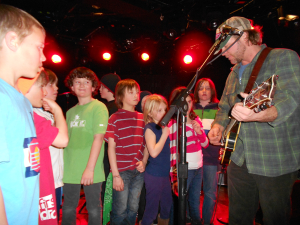 Students enjoy meeting local musicians and special guests through out the Semester.