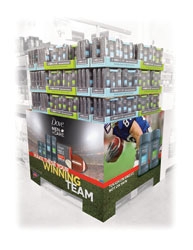 Englewood Cliffs, NJ, September 06, 2012 --(
PR.com
)-- The Dove® team at Unilever selected TFI Envision, Inc. to create the graphics for their Dove® Men + Care™ men's mixed product display highlighting College Football for BJ's that offers consumers Dove Men + Care body wash bars and antiperspirant/deodorant packs. Dove Men + Care is a proud partner of the NCAA and NCAA Football. (Earlier in the year, TFI Envision produced a similar pallet for the NCAA).
The design developed by TFI Envision highlights action football imagery on one side, and product imagery (set in a stadium) on the other, connected by product messaging in a bright band of color which flows around the unit. The mix of products encourages consumers to try the many Dove Men + Care product offerings and scents.
This eye catching display will be in your local BJ's for the back to school season.
Since 1975, TFI Envision, Inc. of Norwalk, CT, has specialized in developing strategic design and marketing solutions for branding, packaging, promotion, digital and corporate communications; helping organizations achieve their marketing and communication goals with compelling, consistent messaging that is on brand and on target.