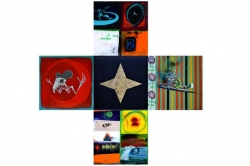 Los Angeles, CA, September 13, 2012 --(
PR.com
)-- Short Film, "L.A. Aboriginal", the mini documentary by Dolce Films on the life and art of native L.A. artist Dave Tourje is being accepted into major film festivals worldwide. The film features some of his art-legend friends Chaz Bojorquez (godfather of Graffiti Art, MOCA, Vans, etc.), John Van Hamersveld (Rolling Stones - Exile on Main Street, Hendrix, The Endless Summer, etc.), Norton Wisdom (Llyn Foulkes, Flea, Beck, LA Philharmonic, etc.) and is narrated by the internationally renowned sculptor, Brad Howe. The 8-minute film, produced/directed by Bayou Bennett and Daniel Lir is densely packed with art, rock and roll, color and subculture, revealing an eclectic, street-oriented art influence that a racially mixed L.A. provides - the flipside of the glitz and polish usually portrayed about the City of Angels. Tourje and his art are an apt reflection of this mixed, eclectic reality; being half Mexican and having grown up in the eclectic environs of Northeast L.A., with it's varied subcultural roots steeped in everything from gangs and lowriders, hotrods and motocross, to BMX, surfing, punk rock and vertical skating.
The short film about Tourje, his influences in art and the dynamic and diverse sub-cultures of Los Angeles, is now an official selection of notable film festivals internationally, including the REEL International Film Extravaganza in Washington, D.C., Gig Harbor Film Festival in Seattle as well as OneCloudFest in Stockholm Sweden, with more to come.
For more information about Dave Tourje, visit www.davetourje.com.