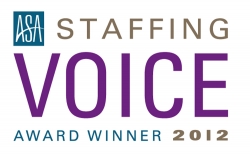 Jackson, MS, September 19, 2012 --(
PR.com
)-- Professional Staffing Group, LLC, headquartered in Jackson, MS, won the Excellence Award - Company Newsletter category in the 2012 American Staffing Association VOICE Awards competition. This national annual awards program recognizes the best ASA member communications campaigns in 16 categories, from direct mail to social media.
"In a world bombarded with useless messages, to ask a client to take a moment to scan a newsletter or check a blog post, there must be real value. We were proud to learn that our efforts to be creative and RELEVANT with our company communications earned an award of excellence from the ASA," states Jane Sanders Waugh, Managing Member/CEO. Elizabeth Robinson, Managing Member and Social Media Director adds, "Relevancy of content is always critical, but good design and innovative, even edgy delivery makes communicating fun and memorable."
The ASA Staffing VOICE Awards competition recognizes the voice, originality, innovation, creativity, and effectiveness - or VOICE - of ASA member communications campaigns. A panel of communications experts judges the entries in two award classes, for independent and national staffing firms, on general appeal and overall quality, content and message, originality of approach, target audience, and objectives.
The 2012 ASA Staffing VOICE Awards competition was sponsored by CareerBuilder, an ASA corporate partner providing customized products and services to help staffing firms increase their exposure among candidates and potential clients.
About the Professional Staffing Group, LLC
Professional Staffing Group Professional Staffing Group stands on nearly 20 years of success with helping both dynamic employers and skilled job seekers navigate the ever-changing work environment.
Growing out of a full service legal staffing and search firm, PSG now offers full circle employment solutions to multiple professional and business sectors. Whether it's placing a star player with a stellar company or crafting cost-saving staffing solutions – PSG makes the difference.
Visit www.prostaffgroup.com
About the American Staffing Association
The American Staffing Association is the voice of the U.S. staffing industry. ASA and its affiliated chapters advance the interests of staffing and recruiting firms of all sizes and across all sectors through legal and legislative advocacy, public relations, education, and the promotion of high standards of legal, ethical, and professional practices. ASA members provide the full range of employment and work force services and solutions, including temporary and contract staffing, recruiting and permanent placement, outplacement and outsourcing, training, and human resource consulting.