Opus Albums Writes the Book on Making a Great Photo Album or Digital Scrapbook
OPUSalbums.com a leading supplier of products for home and professional printing has published an e-book, "Make a Great Photo Album/Digital Scrapbook yourself."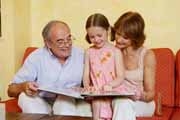 Rochester, United Kingdom, July 05, 2007 --(
PR.com
)--
OPUSalbums.com
, a leading supplier of blank Photo Albums for home or professional printing found that there is remarkably little guidance for the millions of digital camera users in putting together useful printed records of their photos once taken.
The result is three e-books in one: "
Make a great Photo Album yourself
," "Make a great Digital Scrapbook yourself" and "Make a great Photo Story Book yourself." The consolidated e-book – priced at £4.99 (but free till 31 July 2007), covers photographing techniques, choice of book and software, selecting and presenting material, and printing. Useful 'top 10' tip appendices cover albums for specific occasions: weddings, parties, holidays, new baby, football match etc.
The book also shows how albums can become very worthwhile gifts – 'thank-you', birthday, father's day etc.
Daniel Roberts, Author and Director of OPUSalbums.com said, "I am amazed at how little guidance there is available. When one considers the fact that so much time and money is spent capturing memories, they can be so easily lost on CD's, hard disks and websites which may not be around in a few years, when they can be so easily and inexpensively turned into beautiful printed and long-lasting records."
Roberts quips, "Will Windows 2020 support current .jpg files, DVD's and memory cards? Memories are for a lifetime. The case for printing your own albums is compelling."
OPUSalbums.com is a division of Ink Cartridge Technologies Ltd, based in Rochester, Kent, England. The website www.opusalbums.com offers the popular Print & Bind album, the professional Photo Art album, along with software, archival paper, greeting cards, frames etc.
Daniel Roberts, 62, is a well known figure in the inkjet printing industry as director of a major distributor and the owner of three patents in the design of ink cartridges. He was formerly director of planning for Memorex International.
For more information please contact
Daniel Roberts
e-mail daniel@incartek.com
tel +44 (0) 845 408 9427
website www.opusalbums.com
Attachments
Picture of Daniel Roberts
###
Contact
OPUS Albums (div of Ink Cartridge Technologies Ltd)
Daniel Roberts
+44 845 408 9427
opusalbums.com

Contact