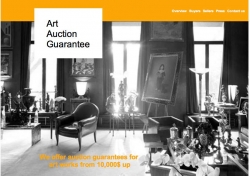 Palm Springs, CA, September 27, 2012 --(
PR.com
)-- Following the successful launch of the company Art Auction Guarantee late last year, it announced this month that its Buyers Auction Guarantee service will be now extended to pieces acquired privately.
The words spread rapidly and Art Auction Guarantee became the leading provider of auction guarantees for both sellers and buyers of art pieces in auction; originally strictly for the buy/ sell of art pieces, Art Auction Guarantee also expanded his area of expertise to Chinese works of art and Wine, 2 dynamic complementary areas of collecting with auctions in Asia, Europe and North America.
Art Auction Guarantee is dedicated to art collectors, dealers/ galleries, art funds, museums and/or auction houses alike; with the exponential increase in value of art pieces, the company offers a professional service that simplifies the process of buying and selling art at auction, but most of all it guarantees a sale and, consequently, the value of art.
Guaranteeing the price of art pieces acquired privately is revolutionary
Any client (collectors, dealers, art funds, etc) can now limit his risk by guaranteeing with Art Auction Guarantee the price he paid to acquire an art piece privately through galleries/ dealers, private sales departments of auction house, etc.
Typically, for all main areas of collecting (paintings and sculptures from 1700 up until Contemporary Art, Design, Chinese works of art and wine), Art Auction Guarantee will guarantee the acquisition price against the payment of a reasonable fee (ranging from 5 to 7.5% of the acquisition price).
This revolutionary guarantee service enables all that are buying art for investment or that are looking to protect their collection value and/ or inventory against fluctuation and uncertainty, to obtain at least their original acquisition price, effectively guaranteeing the value of their art pieces.
For more information about Art Auction Guarantee, please contact Arnaud Aquizerate at 310 614 7296.
Art Auction Guarantee
470 Camino Norte
Palm Springs, CA92262
USA.
Tel: 760 904 4604
Fax: 760 406 4014
info@artauctionguarantee.com
www.artauctionguarantee.com