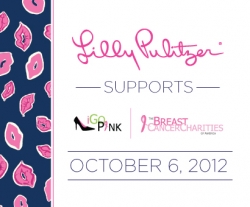 The Woodlands, TX, September 28, 2012 --(
PR.com
)-- In honor of October as Breast Cancer Awareness month, Lilly Pulitzer will be hosting a national "Shop and Share" event on October 6, 2012. Similar to other local "Shop and Share" events held to support local organizations throughout the year, participating stores will donate ten percent of sales from the one-day event to The Breast Cancer Charities of America (BCCA). Customers can help contribute to this cause by shopping at any of the 18 Lilly Pulitzer retail stores and at over 45 participating Lilly Pulitzer Signature stores throughout the nation on that day. The donation will benefit BCCA's primary program service, The Help Now Fund (an emergency financial assistance program that helps with the rent and utilities of breast cancer patients who are going through treatment), and The University Education Program.
"We are thrilled that Lilly Pulitzer has selected our organization to partner with for a second year in the fight against breast cancer," said BCCA Executive Director, Erica Tullis. "We have been very fortunate that Lilly Pulitzer has taken a great interest in the work that BCCA is doing to help in the fight against breast cancer and how they have generously been able to impact the lives of women throughout the nation."
"The fight against breast cancer is a personal one as members of our organization, as well as many of our customers, have been affected by this disease," said James B. Bradbeer Jr., President of Lilly Pulitzer. "We were drawn to the unique mission of BCCA and are proud to again help support their efforts in helping breast cancer patients and their families through integrated cancer care and financial aid."
Mark your calendars for this great event for the cause. To find a list of the participating stores nearest you, visit: blog.lillypulitzer.com
For more information about the organization, please visit: www.iGoPink.org
About The Breast Cancer Charities of America
The Breast Cancer Charities of America (BCCA) is a non-profit organization with new global headquarters in The Woodlands, Texas. With over 25 years of experience in the non-profit industry, BCCA is dedicated to helping thousands of women through our Help Now Fund and by funding non-invasive breast cancer research. Follow us on Facebook.
About Lilly Pulitzer®
Lilly Pulitzer designs and distributes apparel and accessories for women, children and men. It all started 50 years ago with a simple shift dress in Palm Beach, Florida. Today, Lilly Pulitzer provides a collection of modern resort wear inspired by the authentic Palm Beach lifestyle. Lilly Pulitzer can be found online and in 18 company-operated retail stores, over 75 Signature Stores, and major department stores nationwide. More information on products, distribution and the Lilly Pulitzer story is available at www.LillyPulitzer.com and blog.lillypulitzer.com or follow us on Facebook, Twitter, and Pinterest.