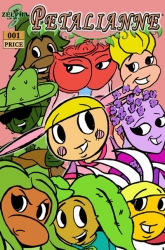 Camas, WA, October 10, 2012 --(
PR.com
)-- Young impressionable girls are currently exposed to a growing amount of sexually provocative imagery, toys, comic books, clothes and television shows. As an alternative, Canadian father and writer Luanga Nuwame, along with fellow dad and American artist George Leon, have created a comic book series entitled Petalianne to provide nurturing and empowering stories to young female readers.
Petalianne is a 24-page, full color, ongoing comic book series about the life and adventures of a little flower sprite and her friends within a mythical forest. The series utilizes endearing characters, a funny bad guy named Dandelion Bob, lighthearted humor and zany adventure stories to demonstrate important life lessons about friendship, self-image, confidence, love and co-operation to readers ages 5 and up. Each issue of the series will also contain games, puzzles and brain-teasers to further keep kids engaged and entertained.
Through publisher Zelpha Comics and renowned crowdfunding website Indiegogo.com, Nuwame and Leon are reaching out to potentially thousands of parents, comic book fans, collectors and educators worldwide to donate to the
www.indiegogo.com/petalianne
campaign in order to raise enough funds for the completion of the first three issues. In exchange for donations, exclusive gifts like signed copies of Petalianne, trading cards, limited edition prints and even a handmade board game prototype are being offered as a thank you. The campaign runs from October 1st to November 14th.
To make sure the series capitalizes on multiple forms of media to engage tech savvy youth, a standalone e-book called "Clumsy Little Petalianne" is also being developed for tablets and smartphones. The e-book is being offered through the Indiegogo campaign.
Both fathers know they are in for an uphill climb to make their Petalianne campaign a success both during and after the campaign. Beyond dealing with the red hot and crowded comic book industry still dominated by spandex superheroes, and the continuing process of educating the public about what "crowdfunding" actually is, there is still the reality of convincing parents and consumers that Petalianne is a better alternative versus the sexually-suggestive entertainment options still dominating pop culture and retail shelf spaces for girls.
"George and I know that Petalianne is a new idea from an unheard of publisher going against controversial yet popular properties like Honey Boo Boo, Bratz dolls, pole dancing for kids and make-up kits for girls too young to know their times tables," Nuwame stated. "It's a challenge to convince people worldwide why donating to our Petalianne Indiegogo campaign is a worthwhile investment for the benefit of their children because of the positive stories we have planned."
Zelpha Comics is betting the virtues of "cute" and "wholesome" still have a place among parents, kids, schools, libraries and retailers. Even if the Petalianne Indiegogo campaign doesn't reach its total funding goal of $10,000, Nuwame and Leon plan to move forward with publishing at least issue #1 to fulfill their personal promises to provide positive and uplifting stories for their growing daughters and little girls everywhere. There is just no stopping two dads on a mission.
Zelpha Comics was founded in August 2012 to create and publish independent comic books for youth and teens. Zelpha operates zelphacomics.com and peekaboonovelties.com as a hub to offer sales and information on current and future comic launches. Indiegogo.com is one of the world's largest crowdfunding websites known for its artist friendly financial backers and international reach.