Military Theme Park Opens in Las Vegas
A brand new indoor machinegun range has opened one block off the Las Vegas Strip with an inventory of over 300 machineguns.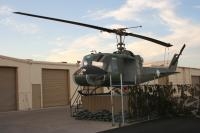 Las Vegas, NV, October 10, 2012 --(
PR.com
)-- Battlefield Vegas has finally opened its doors to the newest indoor machinegun range in Las Vegas. Located on five acres, the new military-themed Battlefield Vegas has the largest collection of machineguns available for public use on the West Coast. Guests as young as 10-years old can shoot some the latest military machineguns on specially designed mounts. The facility is packed with military trucks, jeeps and even a Huey UH-1C that honors veterans of the 68th Assault Helicopter Company that served during the Vietnam War.
"We used to instruct US military personnel prior to overseas deployment but with the War on Terror winding down, our contract for training came to an end," stated Ron Cheney, one of the co-owners of Battlefield Vegas. "Many of the actual weapons in our inventory have been used by soldiers from conflicts starting with World War One." Military personnel were instructed on the use and safe-handling of weapons known to be in use by Taliban insurgents. The training took place at Fort Polk and provided the military personnel the opportunity to understand the enemy's weapon systems.
The staff and management consists of ninety percent prior service or active duty personnel. "I served seven tours in both Iraq and Afghanistan and know what it's like. I want customers to know that the employee behind the counter isn't just an actor but somebody who served their country," stated co-owner David Famiglietti, a 14-year combat engineer veteran. "I want to put as many vets back to work as possible in an environment they are comfortable with."
The indoor range features private VIP rooms each with its own xBox to get hyped up prior to entering the range. Throughout the facility are military collectibles so customers learn some history about the guns and military personnel that served their countries. The collection of machineguns includes captured Nazi weapons that include the very first assault rifle, the STG-44. Other Nazi weapons include the MG-34, MP-40 and the infamous MG-42. Likewise, the weapons used by Allied forces include Tommy guns, Browning machineguns, M1 Garands, M2 Carbines and even the 1918A2 Browning Automatic Rifle. The collection also consists of weapons used by both sides of the Vietnam War to include AK-47's, RPD's, M-16's and the famous M-60 "Pig" light machinegun.
Battlefield Vegas is also scheduled to open an airsoft combat field and military museum on the five-acre complex by the second quarter of 2013.
You can learn more about the different machineguns and experiences by visiting the website at www.BattlefieldVegas.com.
Contact
Battlefield Vegas
David Famiglietti
702-566-1000
www.BattlefieldVegas.com

Contact