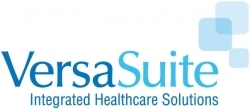 Austin, TX, October 16, 2012 --(
PR.com
)-- VersaSuite, a leading provider of Hospital Information Systems (HIS) and Electronic Health Record (EHR) software solutions, today announced that VersaSuite 8.0 is a CCHIT Certified® 2011 Ambulatory EHR additionally certified for Clinical Research. It is the first product that has been certified by CCHIT for Clinical Research under the Ambulatory EHR certification program.
The CCHIT Certified® 2011 certification programs include a complete inspection of integrated EHR functionality, interoperability, and security according to criteria independently developed by the CCHIT's multi-stakeholder, expert work groups using CCHIT's published testing methods.
VersaSuite has the ability to automatically determine if a patient is eligible for an open clinical research trial based on any relevant medical criteria. The physician is notified of any of his patients that are qualified for a clinical trial and can export the information to the relevant clinical research organization with minimal work required.
"VersaSuite collects an incredibly rich clinical data set by design. This gives hospitals and physicians the ability to run powerful analytics and identify ideal candidates for clinical research if desired. This type of high level search function was never available before with paper charts," said Tom Dorsett, Vice President of Sales and Business Development. "VersaSuite's clinical research functionality enables patient access to potentially lifesaving products and reduces the cost of clinical research. This is in line with our vision of using technology to improve patient outcomes and reduce healthcare costs."
About VersaSuite
VersaSuite is a comprehensive integrated software solution built from one unified code-set that automates healthcare in medical enterprises of all sizes, ambulatory and inpatient. VersaSuite is leading the industry to bring advanced and easy-to-use healthcare automation to hospitals, clinics, practices, surgical centers and community health centers globally. VersaSuite 8.0 is ONC-ATCB 2011/2012 certified to support Meaningful Use for both
eligible providers
and
eligible hospitals
. VersaSuite 8.0 is a CCHIT Certified® 2011 Ambulatory EHR additionally certified for Cardiovascular Medicine with Advanced Reporting, Child Health, Dermatology, Enterprise and Women's Health, CCHIT Certified® Inpatient EHR and CCHIT Certified ® Emergency Department EHR. Learn more about VersaSuite at
www.versasuite.com
.
About CCHIT
The Certification Commission for Health Information Technology (CCHIT®) is an independent, 501(c)3 nonprofit organization with the public mission of accelerating the adoption of robust, interoperable health information technology. The Commission has been certifying electronic health record technology since 2006 and is authorized by the Office of the National Coordinator for Health Information Technology (ONC) of the U.S. Department of Health and Human Services (HHS) as a certification body (ONC-ACB). CCHIT is accredited by the American National Standards Institute (ANSI) as a certification body for the ONC HIT HHS's Permanent Certification Program, formerly known as the permanent program, for electronic health record (EHR) technology and accredited by the National Voluntary Laboratory Accreditation Program (NVLAP) of the National Institute of Standards and Technology (NIST) as an Accredited Testing Laboratory (ATL) to test EHRS. More information on CCHIT and its programs is available at
http://cchit.org
.